In the News: Put Down that Q-tip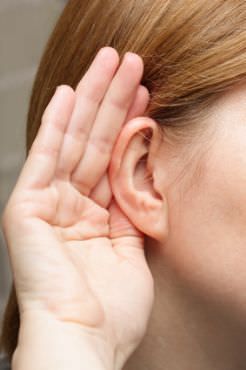 "You have to stop the Q-tip when there's resistance!"
--Chandler to Joey on an episode of Friends.

I admit it. I'm a Q-tip user. But I know when to stop (before there's resistance)!

About 12 million American seek medical assistance for impacted earwax each year. Ear wax (officially called cerumen) can lead to hearing loss and pain if too much builds up.

Therefore, that morning post-shower ritual of (gently) swabbing one's ears with a Q-tip must be good for the ears, right? Wrong.

The American Academy of Otolaryngology has released ear-cleaning guidelines.

Simply put: Your mother was right. Don't put anything in your ear.

If you can't use a cotton swab, how are you supposed to clean your ears?

Wipe the outside of your ears but never put anything in your ear canal.

Place a few drops of mineral oil, baby oil, glycerin, or commercial drops in the ear. Hydrogen peroxide also works. (My mom did this to our ears when were were kids. She likes to brag that none of her four kids ever had an ear infection--though I'm pretty sure that cleaning our ears with peroxide had nothing to do with that!)

Still don't believe me? The Q-tips website doesn't recommend using them to clean your ears!

Are you an ear swabber? Will you stop now that you know it's bad for you? If so, what will you do with that box of 500 cotton swabs?




You will earn

5

SparkPoints

Like what you read? Learn more

about SparkPeople,

or

sign up

for your free account today!
Got a story idea? Give us a shout!