In the News: More of Us Happily Balanced Between Living and Dieting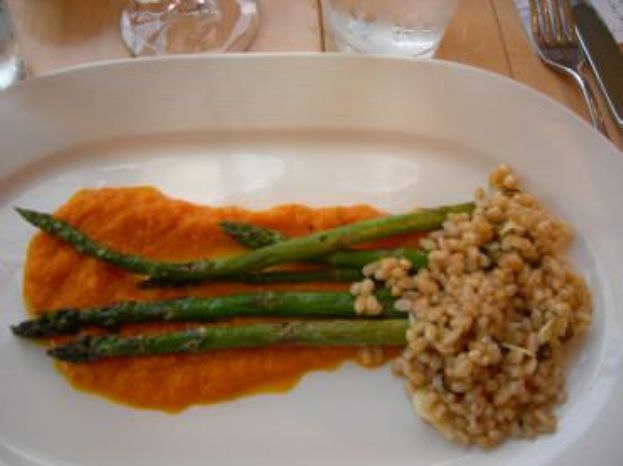 The French playwright Molière said "Il faut manger pour vivre et non pas vivre pour manger." ("We must eat to live and not live to eat.")

That quotation comes from his play "L'Avare" ("The Miser") and provides a fitting comparison. Watching weight is, in a sense, a corporeal form of frugality. We count calories like pennies, keeping a white-knuckled grip on our shopping carts as Scrooge would his billfold. We spend much of our lives trying to find a balance between gorging and fasting, and for many of us, that means diets, calorie counting, and meals filled with stress, agony and guilt.

Living to eat left our society in the middle of an obesity crisis, so we started living to not eat, by turning to every witch doctor, quick fix and magic potion we could. Now, according to a New York Times article, we're starting to find a balance.

More of us are switching gears into what's called "positive eating;" that is, we're including healthy, whole foods on our dinner plates, nixing the restrictive diets and turning away food analogs that replace "forbidden" treats.

We've realized—after experimenting with shakes, bars and packets of chocolate-flavored powder--that there is no Balm of Gilead in the world of weight loss and maintenance. (And that includes "positive eating," too.)
NYT's Tara Parker-Pope notes a few other shifts in our eating habits:

"Even the Calorie Control Council, which represents makers of commercial diet foods, notes the percentage of people who are dieting has declined — to 29 percent in 2007 from 33 percent in 2004.

"And there are other indicators of a shift in eating habits. In May, the market research firm Information Resources reported that 53 percent of consumers say they are cooking from scratch more than they did just six months ago, in part, no doubt, because of the rising cost of prepared foods.

"Sales of organic foods have surged, and the number of farmers' markets has more than doubled since the mid-1990s."

The story poses the question of "whether better eating can translate into weight loss."

It worked for Nicole. And it has worked for others, too. (Will it work for you? You're the only one who can answer that question.)

I spent my teens and early 20s cycling between fasting and gluttony, and I've found that while the ideal maintenance plan for my waistline is calorie counting, the ideal plan for my sanity is moderation and this positive eating concept (though I don't call it that).

Have you changed the way you eat? Are you cooking at home more? Have you sworn off "diet" foods or added healthy fats (think nuts, avocados) back into your diet?



You will earn

5

SparkPoints

Like what you read? Learn more

about SparkPeople,

or

sign up

for your free account today!
Got a story idea? Give us a shout!