In the News: Momís Stress Level Could Affect Childís Weight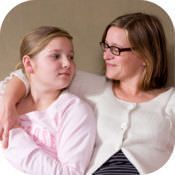 A new study published in the journal Pediatrics shows a link between momís stress level and the weight of her children. The study looked at children in families living below the poverty line, and found that the more stress the mother experienced, the more likely her children were to be overweight.

Children in "stressed" homes where there was plenty of food were more likely to be overweight, versus homes where food was scarce. If food was plentiful, the children had a greater ability to consume comfort foods (that are typically higher in calories and fat) as a way to cope with (or escape) their feelings.

The researchers felt their findings were most relevant in households where children were between the ages of 3 and 10. Older kids can typically find other ways outside of the household to deal with these feelings, whether it is through friends, work, or other social activities. But younger children donít have those outside "outlets".

Although this study looked specifically at families below the poverty line, I think the results can apply to any income level. Eating is a typical response to stress, whether you are young or old, male or female. Young children are very perceptive when it comes to whatís going on around them. So if the parents are stressed, to some degree, so are the children. In our fast-paced society where we all have demands on our time, money, and more, what family doesnít experience some degree of stress now and then?

An estimated 17 percent of U.S. children between the ages of 2 and 19 are obese and another 16 percent are overweight. I think it would be interesting to investigate this link further, to determine if finding different ways of dealing with parental stress could influence these numbers and help improve the health of our children.

What do you think? Have you personally experienced how the physical health of your children is impacted by your mental health?








You will earn

5

SparkPoints

Like what you read? Learn more

about SparkPeople,

or

sign up

for your free account today!
Got a story idea? Give us a shout!