In the News: Get Your Vitamins... from Beer?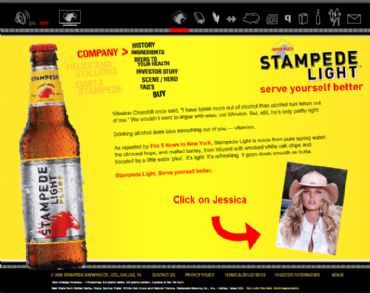 A glass of Pinot noir at dinner, a cold beer during a football game, a cocktail with friends after work. The occasional alcoholic beverage has its place in a healthy lifestyle for many people.
For those folks looking for a new, perhaps even healthier way to imbibe, some Texas brewers might have the drink for you.

Stampede Light Plus is a light beer that's labeled as "Beer Plus." The beer has added folate and B vitamins, which are depleted from the body by alcohol.

Started by a fitness expert and former Anheuser-Busch marketing employee, Lawrence Schwartz, the beer is currently only available in Texas, Nebraska, Wisconsin, Minnesota, Arkansas, Louisiana and parts of Florida. He set out to create a beer that wouldn't completely negate his workouts but still taste good. (He thought most mainstream light beers tasted like swill.) Stampede is "geared toward people who care about the ingredients that go into what they eat and drink."

The result: A light beer that brewed in the Adirondacks with spring water, hops and barley (of course) and infused with white oak chips. One 12-ounce bottle has 115 calories, 8.8 g carbs, .6 g protein, 0 g fat. (By comparison, a Bud Light has 110 calories, .9 g protein, and 6.6 g carbs 4.2% alcohol by volume.) It's 3 percent alcohol by weight and 3.8 percent alcohol by volume, according to the Stampede website. (According to other sources, beer already has some vitamins in it.)

And did I mention that Jessica Simpson has signed on to promote Stampede beer?

First water got a nutritional boost, then soda, and now alcohol.

What do you think about these "functional" drinks? (SparkPeople dietitian Becky Hand weighed in on functional foods and beverages awhile back. Read what she had to say.) Do you think about the health benefits of the beverages you consume? Would you drink a beer that might offer you a nutritional boost?
Photo: screen capture of Stampede Beer website




You will earn

5

SparkPoints

Like what you read? Learn more

about SparkPeople,

or

sign up

for your free account today!
Got a story idea? Give us a shout!