I Ate It: Fruit2Day Chewable, Drinkable Fruit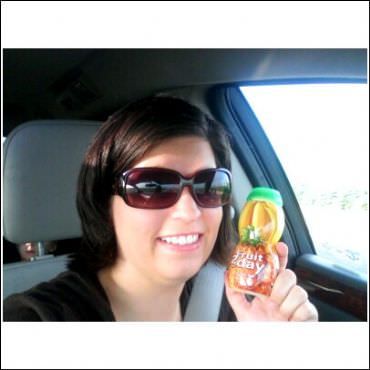 We're continuing a popular new feature on the dailySpark: food reviews written by you, our loyal readers!

Jessica Dudley aka MRSDUDLEY first wrote about the food that gave bread the boot in her house! Now's she's back to write about how she's adding more fruit to her day.

By Jessica Dudley

What is the product called? Fruit2Day

Where did you buy it? Shop-n-Save, Collinsville, IL; it is located in the refrigerated case in the produce aisle.

How much did it cost? The product is packaged with two 6.75 oz bottles of juice and it retails at $3.68. However, I'm a coupon mom! I printed two seperate coupons for $1 off from the manufacturer's website. I then combined those two coupons with an in-store coupon I received during last week's shopping trip for $5 off my next purchase. So, I purchased two packages, and after tax I paid 44 cents for four 6.75 oz. bottles of Fruit2Day. Wow....that is less than 6 cents per piece of "fruit"! Not bad, huh? (By the way, the packaging also has another coupon inside for 55 cents off my next package, and the store printed me a $1 off my next purchase of two 2-pks.)

Nutrition: These have less fiber than the fruit they replace, but they have a bit more fiber than juice.




How did you eat it? As their packaging says "You'll sip. You'll chew. You'll see." And they were right. You take a sip and the little bits of real fruit are there so you chew. Honestly, it is a little hard to describe, but it really is like drinking juice and eating fresh fruit at the same time. It was good. I tried two different flavors, the Mango Peach and the Cherry Grape.

In the store they also had Pineapple Banana, and on their website they also show a Strawberry Orange. The Cherry Grape flavor had more of a pear flavor and the consistency of the fruit was more gritty/starchy like a pear. After reading the ingredient label it made sense because the third ingredient listed is in fact pear pieces. While the Cherry Grape flavor was good, it didn't provide the actual cherry and grape flavor I was looking for.

I really enjoyed the Mango Peach flavor, and while this too had pear pieces within the ingredient listing, the peach pieces and the mango puree shined through, providing the taste that I was expecting.

Why did you like it? Don't get me wrong--I'm a fresh fruit lover, but driving to work and trying to eat a fresh peach or peel an orange probably isn't the safest idea. Fruit2Day is a convenient and healthy way to quickly incorporate two fruits into your meal plan. Also, I think because of the little pieces of real fruit, it gave me more of a "full" feeling than a normal glass of juice would. With the coupons that the manufacturer is providing the Fruit2Day juice drink is just as cost effective as buying fresh produce and I look forward to having them again.

Have you tried this product? Would you? If you're seriously interested in sharing your favorite healthful food product with the dailySpark, send a SparkMail to SP_STEPF. (Serious inquiries only, please!)



You will earn

5

SparkPoints

Like what you read? Learn more

about SparkPeople,

or

sign up

for your free account today!
Got a story idea? Give us a shout!