I Ate It: 100-Calorie Yoplait Delights Parfait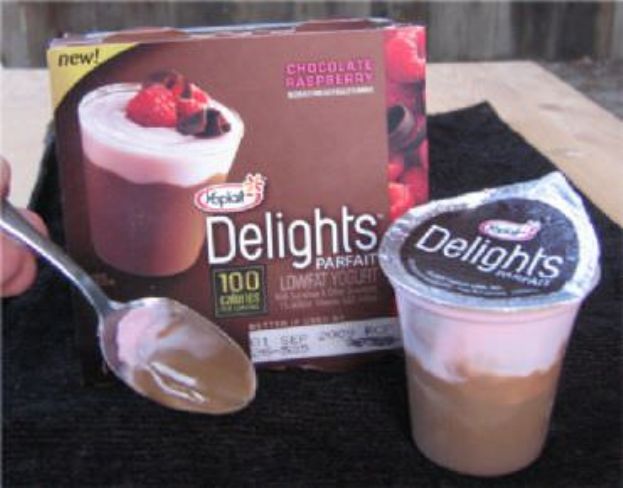 Yoplait recently contacted us about a new product they've just launched: the Yoplait Delights Parfait. These parfaits are marketed as a 100-calorie treat that is ideal for the times when your sweet tooth acts up. We asked a reader to try these and tell us what she thought. We also gave them a try!

What they say:

"In a recent study, nearly nine out of 10 women stated they were interested in 100-calorie foods that could help them tame afternoon cravings. Helping to make mid-day snacking satisfying and guilt-free, General Mills introduces new Yoplait Delights, a rich and creamy layered yogurt parfait with 100 calories per serving. Yoplait Delights' unique flavor combinations include Chocolate Raspberry, Triple Berry Crème, Lemon Torte and Crème Caramel. (NOTE: Get a $1 off coupon at the website!)

New Yoplait Delights have two luscious layers, giving a taste experience unlike any other. Each cup will satisfy cravings with 100 calories per serving and 1.5 g of fat. Yoplait Delights is available nationwide at a suggested retail price of $2.99 for a package of four-4 oz cups."

Also, Yoplait has said: "As of August 2009, General Mills has made the commitment to eliminate milk sourced from cows treated with rBST (recombinant bovine somatotropin), a synthetic hormone also referred to as rBGH, in the production of its category-leading Yoplait yogurts."



What we say:
Editor's note: Some people in the SparkPeople office tried these, too. We really liked the Chocolate Raspberry and the Crème Caramel and thought they made a nice afternoon sweet treat. However, only half of us would eat them again because they contain artificial sweeteners. It's just a matter of personal preference and taste. I've noticed that when we review products that contain ingredients such as high fructose corn syrup, artificial sweeteners, or inulin, there's a stark contrast in the opinions of reviewers and readers. People will either really like or dislike the food based on one particular ingredient. Not every food will taste good to every person; we want to make sure that you spend your food dollars on treats you'll really like!

Here's what we thought:
"These are nice and sweet. I was expecting lemon pudding in the first bite, and I was at first confused. But as I took a second bite and expected yogurt, I was pleased. I would eat these again."

"I tried the berry and the caramel flavors. I liked the caramel flavor better, but I think that if I ate the berry flavor again, I would add real berries, too."

"I dipped a graham cracker into the lemon yogurt parfait. Yum! These definitely have artificial sweeteners in them, but I don't mind that."

Here's what our reader reviewer thought:



Name: Suzanne

Hometown: San Jose, Calif.

SparkPeople Username: Catarata17

Product name: Yoplait Delights Parfait. I tried the Chocolate Raspberry, Crème Caramel, and Lemon Torte flavors. There's also a Triple Berry Crème flavor, which I didn't try.

Nutrition info:



Price/availability:
$2.99 for a package of four-4oz cups
available nationwide

What did you like about the product? I like how creamy they are. The Chocolate Raspberry has a fairly subtle chocolate flavor, pretty typical of chocolate yogurt. The Crème Caramel has a good, mild caramel flavor. My favorite was the Lemon Torte though. It's nice and tangy. I really like the two flavors in one. I thought they worked really well together.




What did you dislike about the product? I rarely consume artificial sweeteners, so I'm pretty sensitive to the flavor. I could really taste the sucralose in these. The chemical aftertaste was the least noticeable in the Lemon Torte, probably because it was already slightly tangy.

How did you eat this product? I had the Chocolate Raspberry for an evening snack. I wanted something dessert-like and it didn't really fulfill my craving. I had the Lemon Torte and Crème Caramel for afternoon snacks with a piece of fruit. They were fairly satisfying and kept me full until the next meal.


Want other ideas for quelling your sweet tooth? Click here.

Have you tried this product? Would you? If you're seriously interested in sharing your favorite healthful food product with the dailySpark and writing a review, send a SparkMail to SP_STEPF. (Serious inquiries only, please!)




You will earn

5

SparkPoints

Like what you read? Learn more

about SparkPeople,

or

sign up

for your free account today!
Got a story idea? Give us a shout!