How to Prevent a Migraine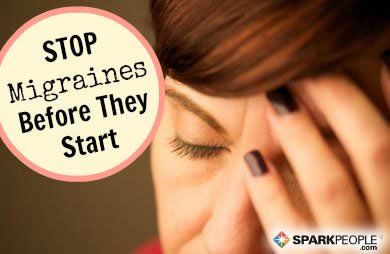 Keeping the same bedtime, eating regular meals and caffeinating consistently can help. Follow these steps for a pain-free day.

6:30 a.m. Take a Brisk Walk

Regularly working out can relieve stress (a trigger for three-quarters of all sufferers) and stabilize the chemicals in your brain. One 2011 study found that people who performed aerobic exercise three times a week experienced a 93% reduction in migraine attacks. If physical activity is a trigger for you, talk to your doctor about popping a nonsteroidal anti-inflammatory drug (NSAID), like the prescription indomethacin, before your workout.

7:45 a.m. Avoid Strong Scents

Switch to fragrance-free soaps and shampoos.

8:30 a.m. Drink Coffee

Although caffeine is a trigger for some people, the stimulant is a well-known remedy for others. If you're a java drinker, stick with the same beverage every morning, as withdrawal can also cause migraines.
9:00 a.m. Cook a Better Breakfast
Aged cheeses, citrus fruits and processed meats, which typically contain nitrates, can set off attacks. You don't have to avoid what you love, says Andrew Charles, M.D., director of the headache research and treatment program at the David Geffen School of Medicine at UCLA. Just consume them in moderation.

12:30 p.m. Make Time for Lunch

Even when your to-do list promises a frantic day, remember to eat. Skipping a meal causes blood sugar levels to drop, which may cause a migraine. (If you occasionally forget to grab a bite, set a reminder on your phone.) Be aware that dairy, wheat, nuts, chocolate, deli meat and fermented foods, like pickles, can also be triggers.

Click here for more ways to prevent migraines from Family Circle.

More from Family Circle:
How do you prevent migraines? What helps you stay pain-free?





You will earn

5

SparkPoints

Like what you read? Learn more

about SparkPeople,

or

sign up

for your free account today!
Got a story idea? Give us a shout!