How Healthy Is Your Home?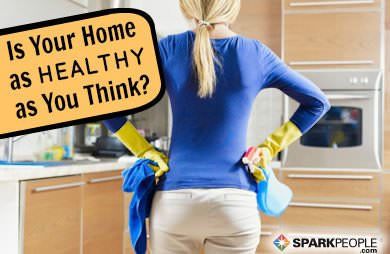 True or False?
Cross-contamination with salmonella, E.coli and other bacteria isn't only a worry when handling meat. It can occur when preparing fruits or vegetables too.

Answer: True. The grocery store's misting system can contaminate produce with dirt and bacteria that grow in the spouts, says biotechnology scientist Stuart Reeves, Ph.D., director of research and development at Embria Health Sciences. One study found that only seventeen precent of consumers wash cutting boards after slicing each vegetable, upping the odds of items becoming tainted and your family getting food poisoning. Wash your hands, cutting board and knives with a Lysol No-Touch Kitchen System (major retailers, starter kit $10).

You just put fresh sheets on the bed. How soon should you replace them with new ones?

A). After 1 month
B). After 1 week
C). If someone gets sick
D). If you have overnight quests

Answer: Anything but A. "Bed linens"— including blankets and quilts—should be washed once a week to reduce exposure to germs, grime and allergens, particularly during cold and

flu season

," says Kevin Ronneberg, M.D., associate medical director at Target. "Wash and dry linens at the hottest temperature setting, since most bacteria need extreme heat to be killed."

What poses the biggest risk for staph or MRSA?
A). A cutting board
B). A toothbrush
C). A pet toy

Answer: C.

A study by NSF International found that pet toys were a big source of staph and antibiotic-resistant staph, as well as coliform, yeast and mold. And playing with the dog's squeakers and ropes can leave your family at risk for illnesses. Hard pet toys should be cleaned monthly with hot soapy water, rinsed, disinfected with a mild bleach solution and then thoroughly rinsed again to remove any residue. "Soft toys can be sanitized with other laundry on the hot water cycle," says Lisa Yakas, manager of NSF International's Home Product Certification Program.



Click here for more tips on how to have healthy home from Family Circle.

More from Family Circle:How are you keeping your home healthy?



You will earn

5

SparkPoints

Like what you read? Learn more

about SparkPeople,

or

sign up

for your free account today!
Got a story idea? Give us a shout!