Healthy Grilling Tips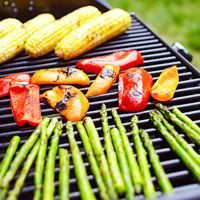 By Regina Ragone, R.D., Family Circle Magazine Food Director

Most women do the happy dance when their other half offers to make dinner. The downside: What arrives at the table is usually not very healthy. But when chef Michael Lomonaco of Porter House New York cooks at home for his wife, Diane, the steak guru refuses to be typecast, often opting for fish and flavorful veggies, with plenty of hot chiles, garlic, herbs and spices. If he does serve meat outside the restaurant, he looks for a leaner cut, like top-round London broil, and serves it with a garlicky chimichurri sauce and sweet onions. Taste his other suggestions for lighter but still manly meals.

Light the fire. Meat, fish, poultry, vegetables, potatoes—they all hit the rack at Casa Lomonaco. Grilling food produces an especially satisfying flavor and is so much better for you than frying or sauteing in butter. Just before serving, brush on a little amped-up olive oil. To make, heat 1 cup olive oil in a saucepan, season with 1 to 2 tablespoons of your favorite barbecue spice mix (he uses smoked paprika), let steep for an hour, cool, then strain through a paper coffee filter.

Walk the plank. Cedar-plank salmon is one of the most popular picks at Porter House. Michael soaks untreated cedar shingles, readily available at lumber yards, in warm water for an hour before cooking (planks specifically for cooking are also available in many hardware stores). Season the fish fillet with salt, pepper and other spices as desired, then lay it on a cedar plank set in a roasting pan. Slide pan into a 375-degree oven or place it on the unfired side of an outdoor grill, covered, 8 to 10 minutes per inch thick.

Roast for the most. Preheat a cast-iron pan over medium heat, sear meat or fish on one side for 3 minutes, flip, then slide the whole pan into a 375-degree oven for 5 to 7 minutes or until cooked to desired doneness.

Create your own barbecue rub with your favorite spices—or use Michael's (Click here for Chef Lomonaco's Chile Rub Recipe). It complements meat, fish and poultry, and lasts for weeks in the fridge.

Stories You Might Like:


Provided photo

Who works the grill in your house?



You will earn

5

SparkPoints

Like what you read? Learn more

about SparkPeople,

or

sign up

for your free account today!
Got a story idea? Give us a shout!