CONTEST CLOSED: Giveaway: Win a Tai Cheng DVD Workout Set!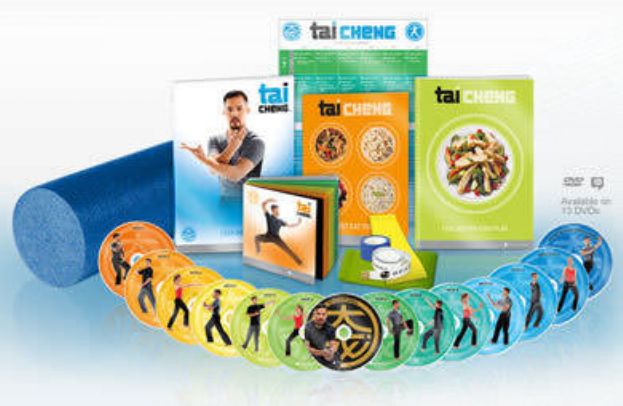 Contest closed. The winner is:

KMKUCK

Congratulations!

Yoga, walking, and meditation are all great ways to rejuvenate the body, but sometimes it's fun to switch up your relaxation routine a bit. That's why we were so excited when we came across the Tai Cheng DVD workout set. These DVDs are based on the practice of Tai Chi and offer a great alternative to your favorite relaxation activities from the comfort of your home. Here's what the Tai Cheng website has to say about the program:

''Want to rediscover a level of strength and energy you may not have felt in years? Explore a natural approach that can help restore your body's youthful range of motion and help reduce pain naturally. Now there's a simple solution, designed for lifelong activity and real, lasting fitness—Tai Cheng!

Tai Cheng™ is Beachbody's newest and perhaps most comprehensive fitness program. Based on the movements, concepts, and theories of traditional Yang-style Tai Chi, the Beachbody® Tai Cheng workout program was created by Tai Chi master, Dr. Mark Cheng. The Mandarin Chinese translation of Tai Cheng (as we've conceived of it here at Beachbody) is the "Supreme Accomplishment" in whole body health.

The Tai Cheng™ workout helps you master the 18 key healing movements of Tai Chi in just 90 days. But we don't think you'll have to wait 90 days to feel the benefits. From your very first workout, you can be on your way to a more active life with less pain. And with more activity comes better overall health!

Tai Cheng™ includes 12 workout DVDs that will train you in the art of Tai Chi—made easy, thanks to Dr. Cheng's breakthrough teaching technique called Dynamic Motion Control™. After even one session of Tai Cheng, you feel less stress, more agility, and increased energy to do the things you want to do.

Easy to follow and easy to master

You can increase strength and help reduce pain and stiffness as you learn the first 6 basic moves of Tai Chi.
Discover how to boost energy and build better balance by mastering the next 6 moves.
Imagine feeling the power of youth reinvigorate your body as you master the final 6 moves and learn to combine them in a single, graceful Tai Cheng™ routine.
You have become a Tai Chi master in just 90 days.''

Tai Chi is an excellent way to improve joint function, rev metabolism, straighten posture, and to relax and rehabilitate the body, inside and out. If this sounds like a good exercise for you, you're in luck: we're giving away one Tai Cheng DVD workout kit, including 12 workout DVDs, a quick-start guide, guidebook, food plan, foam roller, workout calendar, and tape measure!

To enter, click here! Be sure to read the rules. This contest will end exactly one week from today! Winner will be notified via email.

Have you tried Tai Chi? How would practicing Tai Chi benefit you?




You will earn

5

SparkPoints

Like what you read? Learn more

about SparkPeople,

or

sign up

for your free account today!
Got a story idea? Give us a shout!