CONTEST CLOSED: Giveaway: Denise Austin DVDs!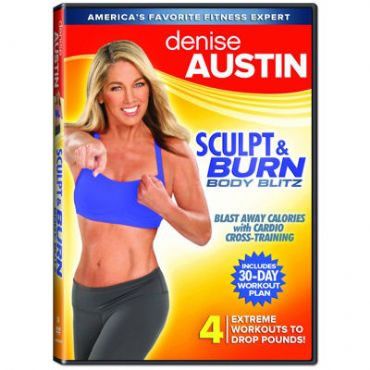 CONTEST CLOSED. The winners are:

Sculpt and Burn Body Blitz:
GOODHEALTH4EVER
MASTERCARE
TEXASCATFOOD

Shape Up and Shed Pounds:
BJANKUN
ADLINS
CLUCAS8464


Congratulations!


February can be a rough month for workouts. Spring is in sight, but barely. Temperatures continue to drop, and venturing out in the cold to hit the gym seems unappealing to even the most motivated of exercisers. Wouldn't it be easier to stay home and get an effective, full-body workout right in your living room, led by one of the biggest names in fitness?

Well, now you can! Legendary fitness guru Denise Austin has recently come out with two new workout DVDs, Sculpt and Burn Body Blitz and Shape Up and Shed Pounds. We are giving away 3 copies of each DVD, for a total of 6 lucky winners! We had the opportunity to ask Denise herself a few questions about how she stays healthy and fit, her take on her new DVDs, and more. Read the interview below, and then enter to win a copy of Sculpt and Burn Body Blitz or Shape Up and Shed Pounds!

SparkPeople: The fitness industry is constantly growing and changing-- we have more ways to work out now than ever before! In your opinion, what is the most exciting evolution in the fitness industry since you've been a part of it?

Denise Austin: Fitness DVDs. DVDs work perfectly for a fitness routine because you can do abs one day, thighs the next and you can do twenty minutes of it and don't have to rewind the video. You can even go to the DVD menu and pick the workout you want to do to make it a quick and convenient workout. Another great development is Lionsgate's YouTube fitness channel, BeFit, where my fitness workouts are available 24 hours a day online - you can mix and match and create exactly the type of workout that you want. I love being involved in something that so directly reaches where the future of fitness is headed.


SP: What is your "go to" food to eat before a work out?

DA: Before a workout, I like to eat either hard boiled eggs or yogurt with berries.


SP: How has your diet and exercise routine evolved over time?

DA: I have always eaten well 80% of the time and have my treats 20% of the time. I eat nutrient-dense, healthy food. Now, I add more salmon and flax seeds and often make fresh juice. Over time, I have learned that balance is the key to a healthy life. I now eat more veggies, beans and lentils and don't eat as much junk food as I used to eat.

I love to mix up my exercise routine more than ever. Every week I switch between cardio, yoga, Pilates and boot camp type workouts. The more I mix my routine up, the more I surprise my muscles so I never plateau.


SP: You have obviously kept fitness a priority throughout your career and life but you are also very busy. What kind of workout ideas do you have for those of us who are trying to get fit on a full schedule?

DA: Get off your butts and move more often! Sitting burns very few calories so get off your rear ends as often as you can; standing burns more calories than sitting and walking and moving around burns even more calories. I try to work out at least 30 minutes a day and try not to sit for 8 hours at a time by getting up and moving around my muscles because circulation is very important.


SP: What is your personal fitness mantra?

DA: Keep fit because you are worth it. You deserve to look and feel your best.


SP: What is different about your newest DVDs, Sculpt and Burn Body Blitz and Shape Up and Shed Pounds?

DA: Sculpt and Burn Body Blitz is the most challenging workout DVD I have ever done. You might call this my extreme workout DVD. It delivers a challenging workout to people who are already in good shape. If I need to tone up fast for an event, I just put this DVD in three days a week and I see a noticeable difference in my body. This DVD still kicks my butt!

Shape Up and Shed Pounds is the complete opposite. This DVD is for people who haven't exercised in years and want to lose weight. The exercises in this DVD help you burn fat in two parts. The first part is a 30-minute low impact, easy on your joints cardio workout and the second is a 20-minute toning and stretch workout. As a result you are getting total body fitness - cardio burns fat, toning firms muscles and stretching helps flexibility. I love this DVD; it is easy for everyone to get started.


SP: This DVD incorporates many different kinds of exercise. Why is it important to shake up your routine?

DA: Shaking up your routine surprises your muscles; I truly believe this is what keeps me in great shape. As I get older, I like to change it up even more. I do yoga for the chance to stretch, and Pilates to flatten the tummy. I do cardio to burn lots of fat and I do sculpting exercises for a metabolism boost. Changing your routine like this every so often makes the metabolism stay active long after you finish your workout, which is great for weight loss.

To enter, click here! Be sure to read the rules. This contest will end exactly one week from today! Winners will be notified via email.
What's your favorite way to shake up your exercise routine?



You will earn

5

SparkPoints

Like what you read? Learn more

about SparkPeople,

or

sign up

for your free account today!
Got a story idea? Give us a shout!