Food on the Run: Wendy's New Salad Sensations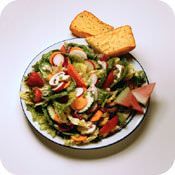 Wendy's was the fast-food salad leader in the 1980's with their expansive salad bar. After nearly two decades, the company removed the salad bars. Pre-portioned Garden Sensation salads were introduced in 2002 and have remained popular. The Mandarin Chicken salad was my personal favorite. Last week four new salads took center stage in the Garden Sensation category. Marketing officials hope the focus on wholesome ingredients will appeal to the nutrition conscious when they eat away from home. So how do these new salads measure up?


The new salads have an average price point of $5.99, which is a dollar higher than previous Garden Sensation choices with a similar serving size. However, the price remains in line with other premium fast food salad options from restaurants like Panera Bread or McAlister's Deli.

The new options include nutrient rich ingredients like blended greens of iceberg lettuce with spinach, red and green chard and red and green romaine. Salads feature ingredients such as tomatoes and hard-cooked eggs, red and green apples, dried cranberries and guacamole, along with grilled chicken, nuts and cheese. The focus on new ingredients doesn't hide the fact that Wendy's chili, batter coated chicken, French bread croutons and Applewood smoked bacon are also key ingredients that add to the calorie and fat counts.

There are new Marzetti dressing flavors that focus on popular ingredients like avocado, pomegranates and jalapenos. With the exception of the Creamy Red Jalapeno dressing (100 calories and 10 grams of fat), they have a two packet serving size. The Pomegranate Vinaigrette will be your healthiest choice if you only use one of the packets, with only 60 calories and 3 grams of fat.
Here is a closer look at these four new salad options.

Baja Salad - Southwest flavor from Wendy's chili, pico de gallo, cheddar and pepper jack cheeses, and guacamole atop mixed greens and served with creamy red jalapeno dressing and seasoned tortilla strips.

Calories – 740

Fat – 47 grams

Sodium – 1,990 mg

Carbohydrates – 49 grams

Fiber – 13 grams

Sugars – 14 grams

Protein – 35 grams

Nutritionally this salad provides a healthy source of fat as well as 100% of estimated vitamin A needs, 50% of vitamin C needs, 50% of daily calcium needs and contributes 30% of daily iron needs. With over 700 calories and 45 grams of fat, the fact that one of the fat sources is healthy and it provides important nutrients is of little consequence when it takes such a bite out of your daily calorie allowance. If you can split the salad with someone else or take part of it home, that would be your best option when selecting this salad as well as only using one of its dressing packets.

BLT Cobb Salad - Mixed greens topped with grilled chicken, chopped eggs, Applewood smoked bacon, blue cheese crumbles and tomatoes, served with two avocado ranch dressing packets.

Calories – 670

Fat – 47 grams

Sodium – 1,920 mg

Carbohydrates – 15 grams

Dietary Fiber – 3 grams

Sugars – 6 grams

Protein – 47 grams

This salad is also rich in vitamins A and C and provides a source of calcium and iron as well. Reducing the serving size of salad dressing to one packet can help lower the calorie contribution by 100 calories but this salad remains a higher calorie and higher fat choice if the entire entrée is enjoyed at one time.

Apple Pecan Chicken Salad - Mixed greens are topped with grilled chicken, blue cheese crumbles, dried cranberries, red and green apple chunks and roasted pecans and served with two packets of pomegranate vinaigrette dressing.

Calories – 580

Fat – 27 grams

Sodium – 1,590 mg

Carbohydrates – 50 grams

Fiber – 6 grams

Sugar – 39 grams

Protein – 38 grams

This is the lowest calorie and fat option of the new salad line. You can lower your calories slightly (about 60 calories) by only using one packet of dressing. You can reduce the fat and calories additionally by taking off the crumbled blue cheese. With those two modifications, this salad becomes a more nutrient rich and calorie wise entrée salad.

Spicy Chicken Caesar Salad - Romaine lettuce covered with a spicy chicken fillet, Asiago cheese, grape tomatoes and croutons served with two packets of lemon garlic Caesar dressing.

Calories – 740 calories

Fat – 49 grams

Sodium – 1,860 mg

Carbohydrates – 41 grams

Fiber – 7 grams

Sugars – 5 grams

Protein – 37 grams

This salad along with the Baja salad tip the scale in calories and fat although providing a good source of vitamins A and C as well as calcium. You can reduce the caloric total by 100 and total fat by 9 grams if you substitute grilled chicken for the breaded spicy fillet although it will change the taste slightly. You can reduce the total by another 105 calories and 10.5 grams of fat if you only use one of the dressing packets instead of both. Leave off the croutons to save yourself another 80 calories and 3 grams of fat for a total salad of only 455 calories but 26 grams of fat.

The Bottom Line

It is nice to see a new variety of salads and dressings at Wendy's. It is surprising they are so high in calories and fat while promoting a focus on "real" ingredients. The plastic bowls when dining in are not overly environmentally friendly either but they were around with the other Sensation salads as well. These new salads are pretty similar nutritionally to the previous selections but with new fruits and blends of greens and dressings. Several can fit into our Food on the Run recommendations of meals less than 500 calories with no more than 20 grams of fat with a few minor modifications. A couple are pretty high in both calories and fat and should be split with a friend or half saved for a second meal. If you are trying to keep your sodium intake to a minimum, none of these would be good choices since they all provide more than 1,000 mg of sodium per serving.

Salads seem like a healthy choice but many times all the toppings and dressings make them just as high in calories and fat as many of the other sandwich options on the menu. These new salads are no different. Don't assume that an entrée salad is your best option and overlook other lower calorie and fat alternatives. Either a plain baked potato topped with a small chili (500 calories and 7 grams of fat) or an Ultimate Grilled Chicken (without sauce) and a side salad with fat-free dressing (470 calories and 7 grams of fat) and water provide less calories and fat than the salads if you are looking for the lowest calorie and fat options.

What do you think about the new Garden Sensation salads? Are you excited about the focus on more wholesome ingredients?



You will earn

5

SparkPoints

Like what you read? Learn more

about SparkPeople,

or

sign up

for your free account today!
Got a story idea? Give us a shout!