Food on the Run: Subway Now Serves Breakfast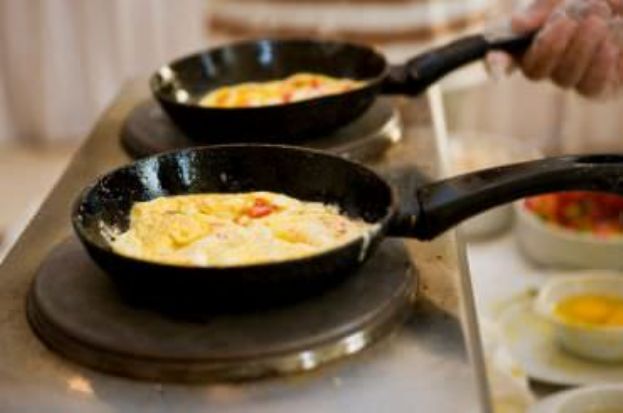 In our ongoing Food on the Run series, we have previously reviewed healthier options offered at Subway restaurants.

Most of the 23,000 Subway restaurants across the nation began serving a breakfast menu earlier this week. Patrons can build a better breakfast with basic ingredients such as eggs or egg whites, cheese, ham, bacon, steak or sausage and standard veggie topping options. Enjoy your creation on a choice of a light wheat English muffin, flatbread, or traditional Subway sub roll. Add a cup of Seattle's Best Coffee or a bottle of Minute Maid Orange Juice to complete your meal.

So how do these breakfast sandwiches stack up nutritionally?


Selecting sandwich options on a light wheat English muffin (calories – 90) will provide you with the lowest calorie breakfast sandwich. The nutritional information can increase greatly depending on the bread options selected. Flatbread (240 calories/5 grams fat/480 mg sodium) will be your highest calorie choice with the standard white sub bread (200 calories/ 2 grams fat/390 mg sodium) not far behind.

Overall sodium content can be quite high with some breakfast sandwiches such as the Sausage Egg & Cheese sandwich on 9-grain whole wheat bread containing more than 1500 mg sodium per serving. Your lowest sodium breakfast sandwich choice would be an Egg white & Cheese on a light wheat English muffin (140 calories/3.5 grams fat/420 mg sodium. This is also the lowest fat option as well.

Avoid most of the omelet sandwiches because they are over 400 calories due to the sub bread. The only exception would be the Egg White & Cheese Omelet Sandwich (140 calories/3.5 grams fat/ 420 mg sodium).

Experiment with new tastes and textures on your breakfast sandwich by including low calorie, nutrient rich vegetables such as onions, green peppers, olives or hot peppers.
Here are some specific sandwiches that would be your lowest calorie and fat options.

Western Egg & Cheese Muffin with green pepper and onion on a light wheat English muffin

Calories – 180

Fat – 7 grams

Sodium – 650 mg

Carbohydrates – 18 grams

Fiber -5 grams

Protein – 15 grams

Steak, Egg White & Cheese on light wheat English muffin

Calories – 170

Fat – 4.5 grams

Sodium – 570 mg

Carbohydrates – 19 grams

Fiber – 5 grams

Protein – 16 grams

Although this may not be the most diverse breakfast menu, Subway provides a nutrient rich and calorie wise option when you need to eat on the run.

Did you know Subway was now serving breakfast? How do you think their menu compares with other fast food breakfast options?



You will earn

5

SparkPoints

Like what you read? Learn more

about SparkPeople,

or

sign up

for your free account today!
Got a story idea? Give us a shout!