Food on the Run: Panda Express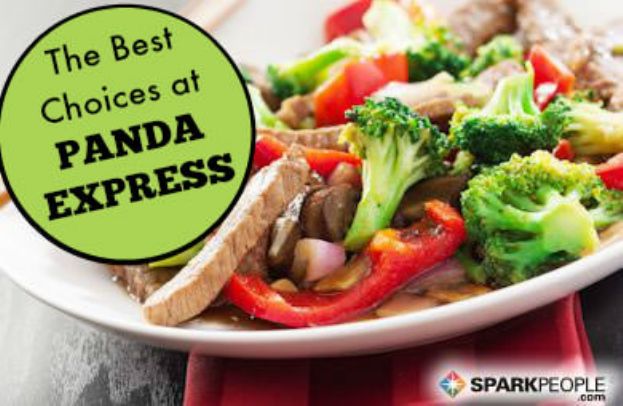 As we have seen in our ongoing Food on the Run series, the calories, fat and sodium content at fast food restaurants tends to be quite high and finding better choices can be difficult. Our goal remains to offer things to consider when ordering as well as providing you with specific nutrition information for some of your better choices.

In this week's installment of Food on the Run, we will take a closer look at a fast food style restaurant that can typically be found in shopping malls and supermarkets throughout 38 U.S. states and Puerto Rico, Panda Express

Many individual entrées and side items at Panda Express meet our guidelines and provide less than 250 calories and 10 grams of fat. These can easily be identified with the new Wok Smart identification symbols. However, when you add several of these items together, this is usually no longer the case and it is difficult to find a meal that is less than 500 calories and 20 grams of fat. One of the best options in this case is to plan on eating only half of the serving size and either sharing the other half with a friend or taking it home for another meal.

Things to Consider


There are no gluten-free items available at this restaurant chain and some of the dishes contain allergens such as eggs, peanuts or shellfish.
Panda Express does not use MSG in their food but care is still necessary when making selections if lower sodium intake is desired.
Avoiding fried foods is always your best bet to reduce your fat intake. Panda Express entrees and side items contain zero grams of Trans Fat because of the use of 100% soybean when preparing recipes.
There are vegetable-based entrees which are wonderful lower calorie and fat choices. However, it is important to note that they would not be certified vegetarian because of the cooking processes that are used which include the use of shared equipment that has been used with meats.
Appetizers are usually fried so it would be better to avoid selecting one as a meal starter.
Rice and noodles provide the basis of many entrée selections. Chow Mein noodles and fried rice are higher fat choices so stick with the steamed rice and ask if they have brown steamed rice as an option. You can also skip these all together in favor of a double serving of vegetables.
Sauces can slip calories into your overall meal without even realizing it. Mandarin Sauce is the higher calorie option compared to Potsticker sauce, which is the best choice.
With a fortune cookie only providing 32 calories and 2 grams of fat, there is no need for concern about including one at the end of your meal.

Some Good Choices

Egg Flower Soup – 12 oz serving
Calories – 90
Fat – 2.5 grams
Sodium – 895 mg
Carbohydrates – 16 grams
Fiber – 0 grams
Protein – 2 grams

Hot & Sour Soup – 12 oz serving
Calories – 110
Fat – 3.5 grams
Sodium – 1370 mg
Carbohydrates – 14 grams
Fiber – 2 grams
Protein – 5 grams

Mandarin Chicken with a double serving of Mixed Vegetables
Calories – 430 calories
Fat – 24 grams
Sodium – 1370 mg
Carbohydrates – 24 grams
Fiber – 6 grams
Protein – 35 grams

King Pao Chicken and Mixed Vegetables
Calories – 330
Fat – 22 grams
Sodium – 650 mg
Carbohydrates – 20 grams
Fiber – 8 grams
Protein – 18 grams

Tangy Shrimp with Pineapple and Mixed Veggies
Calories – 240
Fat – 12 grams
Sodium – 660 mg
Carbohydrates – 24 grams
Fiber – 5 grams
Protein – 11 grams

Broccoli Beef with Vegetable Chow Mein
Calories – 540
Fat – 19 grams
Sodium – 1530 mg
Carbohydrates – 70 grams
Fiber – 11 grams
Protein – 22 grams

String Bean Chicken Breast with Steamed Rice
Calories – 540
Fat – 10.5 grams
Sodium – 580 mg
Carbohydrates – 91 grams
Fiber – 8 grams
Protein – 21 grams

Have you seen this restaurant in your area? Have we seen them in all 38 states?



You will earn

5

SparkPoints

Like what you read? Learn more

about SparkPeople,

or

sign up

for your free account today!
Got a story idea? Give us a shout!