Food on the Run: New BK Breakfast Menu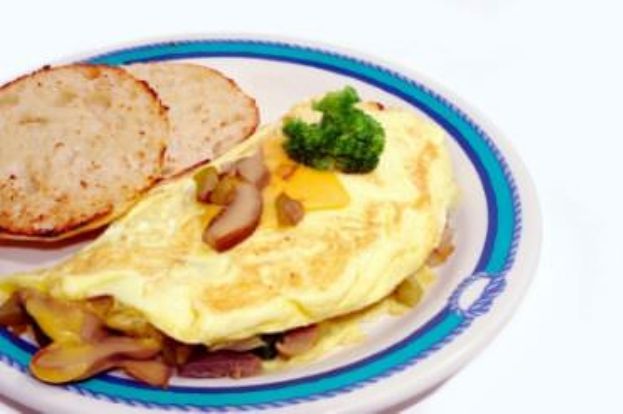 Burger King has added nine new breakfast items to their menu to help you have breakfast your way. This is the fast food restaurant chain's largest menu expansion ever.

The new BK Breakfast commercials have caught a lot of positive buzz that they hope will help them march up to number one in the fast food breakfast battle. The ever-popular Croissan'wich is still on the menu as well as the BK Breakfast Muffin Sandwich and the Breakfast Bowl. Now you can select a cup of Seattle's Best coffee and a Club breakfast sandwich, mini biscuits or a breakfast platter to complete your morning meal.

We know it is important to eat breakfast even if it isn't ideal. We have previously shared other fast food breakfast information in our ongoing Food on the Run series. With an Ultimate Breakfast Platter containing 1,310 calories, 72 grams of fat and 2,490 mg of sodium on the new menu, it will be important to know what to look for if you are selecting from the new BK Breakfast Menu.

BK Breakfast Ciabatta Club Sandwich - A whole grain Ciabatta with ham, bacon, tomatoes, cheese and tomato sauce on eggs

Calories – 480

Fat – 23 grams

Sodium – 1,270 mg

Carbohydrates – 41 grams

Protein – 24 grams

Make It Your Way - While the total calories aren't too bad for a complete meal, the total fat count is and so is the sodium content. You could reduce the total fat and sodium if you ask for it without bacon.

Mini Blueberry Biscuits - 4 piece serving with icing for dipping

Calories – 390

Fat – 15 grams

Sodium – 830 mg

Carbohydrates – 57 grams

Protein – 5 grams

Make It Your Way - Sharing these with three other friends when you go out for coffee would be the best idea for these new sweet treats.

Pancakes and Sausage Platter - Three pancakes with syrup and sausage

Calories – 670

Fat – 34 grams

Sodium – 1,010 mg

Protein – 14 grams

Make It Your Way - Sharing this meal with another person or taking half of it home would be your best option but it still is fairly high in fat.

BK Ultimate Breakfast Platter - Scrambled eggs, hash browns, sausage, biscuit and pancakes with syrup

Calories – 1,310

Fat – 72 grams

Sodium – 2,490 mg

Carbohydrate – 134 grams

Protein – 32 grams

Make It Your Way - Avoiding this meal completely would be our recommendation.

In addition to these new breakfast menu items, some of the older favorites remain on the list as well.

BK Breakfast Bowl - Eggs, potatoes, peppers, sausage, and cheese.

Calories – 540

Fat – 42 grams

Sodium – 1,020 mg

Carbohydrates – 17 grams

Protein – 24 grams

Make It Your Way - The eggs, potatoes and peppers provide a balanced meal with a lower calorie, fat and sodium content. Ask them to leave off the sausage and only sprinkle some cheese on top to make this meal a better nutritional fit.

Croissan'wich - Ham, Egg and Cheese on a croissant

Calories – 550

Fat – 28 grams

Sodium – 1,470 mg

Carbohydrate – 57 grams

Protein – 17 grams

Make It Your Way - The croissant by itself provides 160 calories and 6 grams of fat. If you really want this type of sandwich, skip the ham and cheese and stick with an Egg Croussan'wich that provides 250 calories, 12 grams fat, and 470 mg of sodium.

French Toast Sticks - 3 piece serving

Calories – 350

Fat – 11 grams

Sodium – 280 mg

Carbohydrates – 59 grams

Protein – 3 grams

Make It Your Way - While this is not an extremely nutrient rich option, it is one of the lowest sodium choices for the calories. If low sodium is your top priority, this would likely be a good choice.

BK Breakfast Muffin Sandwich - English muffin, ham, eggs, cheese with a honey butter sauce

Calories – 240

Fat – 12 grams

Sodium – 790 mg

Carbohydrates – 24 grams

Protein – 12 grams

Make It Your Way - This is your best breakfast choice especially if you remove the honey butter sauce and cheese for simply a Ham and Egg Muffin Sandwich with 170 calories, 4.5 grams fat, 550 mg sodium.

More than 460 breakfast items were added to restaurant menu boards during 2009. There are more than 12,000 Burger King restaurants around the world interested in winning the new fast food breakfast battle. Caution is necessary when making a fast food breakfast stop and knowledge is definitely power to win the weight war.

Have you seen the new BK Breakfast commercials? Are you tempted to march in to try the new items?



You will earn

5

SparkPoints

Like what you read? Learn more

about SparkPeople,

or

sign up

for your free account today!
Got a story idea? Give us a shout!