Exotic Eats: Kimchi (gimchi or kimchee)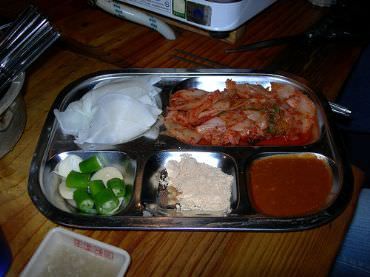 It's Korea's most popular side dish

What is it?
Vegetables—usually Napa cabbage, but also daikon radish, cucumber, scallions, or perilla leaves--mixed with garlic, ginger, onions, dried shrimp (sometimes), and hot pepper paste. (It's the food in the upper right in the picture.)

Kimchi is spicy and pungent, like a fiery sauerkraut. (The heat level is usually comparable to a medium salsa.) In Korea, it's served at every meal: For breakfast, it's eaten alongside white rice and maybe an egg over easy. For lunch and dinner, it's served in stews, soups, stir fries and alongside barbecued meats. It tops pizzas, burgers and pastas. There are 187 varieties of kimchi, according to the Kimchi Field Museum in Seoul (I visited when I was living in South Korea back in '05.). The most popular is made of Napa cabbage.

Where do you get it?
I buy it in half-gallon jars at my local Korean grocery. Don't have a Korean grocery? No problem!

My local supermarket carries small jars of kimchi in hot and mild flavors. Look for it in the produce section, near the wonton wrappers and fresh herbs. Whole Foods and health-food stores sell it near the soy products. (You can make your own, too. I sometimes do! Ask, and I'll give you the recipe!)

Nutrition data
Fermented foods, like sauerkraut, kimchi, yogurt and natto, are full of probiotics. Those helpful bacteria help fight off germs in the gut, and they help keep you regular, too.

The vegetables in kimchi provide plenty of nutrients and minerals. Cabbage is loaded with nutrients like sulforaphane, a chemical said to boost cancer-fighting enzymes. Kimchi is low in calories and sugar, contains plenty of fiber, Vitamins A and C, calcium and iron. Dr. Jonny Bowden even included kimchi in his "150 Healthiest Foods on Earth."

Meanwhile, the garlic helps lower cholesterol and aid in blood clotting, and the spicy red pepper has pain-reducing and cardiovascular effects. (An added bonus: Eat kimchi to clear your sinuses!)

Kimchi trivia:

Koreans say "kimchi" instead of "cheese" when taking photos.

Kimchi is so popular that Korean airlines serve it in tiny pouches on every flight. Travel pouches of kimchi can be found in any Korean supermarket—they're popular with Koreans who are traveling to milieus that might be lacking in kimchi.

Many Koreans have special kimchi refrigerators in their homes.

The first Korean astronaut, Ko San, blasted off to space this year with kimchi. The bacteria was removed—after plenty of research by the Korean Atomic Energy Research Institute.

Recipes:
Broiled kimchi

Kimchi fried rice

Find more kimchi recipes at SparkRecipes.com

Do you like kimchi? What exotic eat is a staple in your house? Vegemite? Sauerkraut? Pickled herring? Harissa? Email editor@dailyspark.com, and we might write about your favorite exotic eat.

Photo: side dishes to accompany a Korean barbecue meal in Seoul, 2005



You will earn

5

SparkPoints

Like what you read? Learn more

about SparkPeople,

or

sign up

for your free account today!
Got a story idea? Give us a shout!