Eat Bright: Healthy Fruits and Vegetables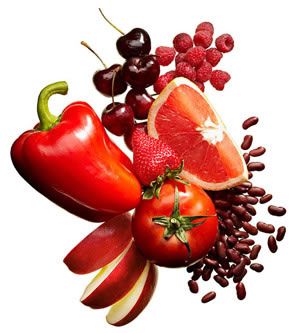 You would be well served to put a vivid palette of luscious reds, brilliant greens and deep purples on your plate. "Colorful fruits and vegetables don't just make your meal look more appealing," says Karen Ansel, a registered dietician in Syosset, New York, and spokesperson for the Academy of Nutrition and Dietetics (formerly the American Dietetic Association). "You get a better mix of nutrients by eating produce in a variety of shades." That's thanks to the unique combination of vitamins, antioxidants and natural chemicals behind the bright hues. Research shows these compounds ward off disease, slow the aging process and boost overall health.

Red
Cherries: A small handful (either dried or fresh) eaten one hour before bed can help raise melatonin levels, sending you off to dreamland faster.
Red Bell Peppers: Ring in better vision with this bell-shaped veggie. It's filled with lutein, a com-pound that can reduce the risk of macular degeneration.
Tomatoes: Lycopene gives them their scarlet shade and guards against cancer. It's best absorbed when tomatoes are cooked and served with a little fat.





Yellow


Corn: Here's a kernel of truth: People who regularly eat corn and other foods rich in beta-cryptoxanthin reduce their risk of developing lung cancer by 27%.
Pineapple: One cup of this tropical wonder provides 128% of the recommended daily amount of manganese, an essential nutrient that sweeps cancer-causing free radicals out of cells.
Bananas: An apple a day may keep the doctor away, but potassium-rich bananas stave off cardiovascular disease and regulate blood pressure.



Orange
Carrots: This veggie is one of the best of the bunch when it comes to heart health. Scientists found that people who eat at least one serving a day are 60% less likely to have a heart attack.
Cantaloupe: Give your immune system a boost: One cup of the orange fruit has 113% of the daily value of vitamin C, which fuels infection-attacking white blood cells.
Sweet Potatoes: Here's a veggie to root for. One baked tuber provides 262% of your daily value of vitamin A, which keeps skin looking young by forming new cells.

Find out what the rest of the rainbow will do for your health!

Stories you might like:

How many "colors" have you eaten today? Which ones?

Provided photos



You will earn

5

SparkPoints

Like what you read? Learn more

about SparkPeople,

or

sign up

for your free account today!
Got a story idea? Give us a shout!