DVD Review: You Don't Have to be Stick Thin to do 'HeavyWeight Yoga'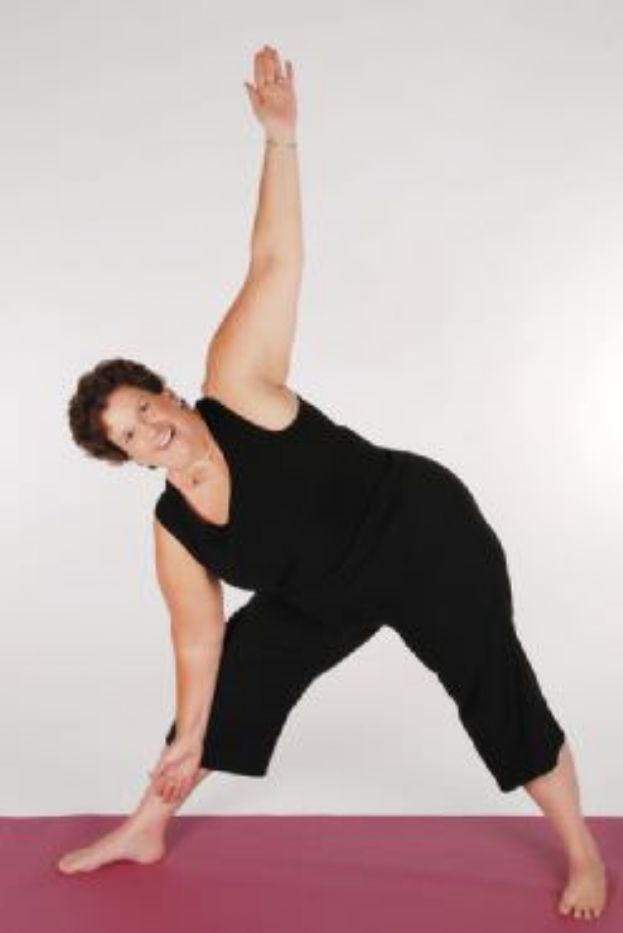 I don't know what it's like to be obese. I've never been inside the body of a very overweight or obese person. Although I know a lot about fitness and do my best to lead workouts that are suitable for people of many levels of fitness and mobility, I can truly never know how it really feels to do that workout while carrying excessive weight. But like many of you, Abby Lentz (that's her in the photo to the left) knows what it's like. A certified yoga instructor, who also happens to be obese, she's been sharing her knowledge for the past four years by leading overweight and obese exercisers in Austin, Texas through classes just for them: HeavyWeight Yoga. Recently, she released a DVD by the same name so that overweight men and women can enjoy the many benefits of yoga at home. She doesn't think you need to lose weight or tone up before you try yoga. In fact, she says that everyone can—and should—practice yoga starting with the body you have today.

I first learned about Abby Lentz in Fitness magazine's "Fit 50" list of tips, trends and trendsetters, and thought, "How refreshing!" I personally contacted Abby to request a DVD to review for our readers, and finally had a chance to test it out over the past week…and I was blown away!

To learn more about HeavyWeight Yoga, check out this video. If you have trouble viewing the video below, click here to see it on YouTube.





The amount and quality of content and detail she provided in this DVD, which boasts over 2 hours of instruction, was truly amazing! The DVD menu provides several special feature segments, including a 6-minute interview with Abby that was so motivational and inspiring. I really applaud the message that she's trying to send to people about awareness, acceptance and affection of their bodies. Other segments that would appeal specifically to obese individuals and people with limited mobility include:

An overview of yoga props and why they're needed, especially to help increase comfort while doing yoga. She even shows you how to use household items—towels, books and men's ties—if you don't have access to yoga props.
Special instructions for people who are unable to come to the floor. Abby explains how you can sit in a chair, stand using two chairs for balance, and lie on a bed to do yoga your own way. Even for bed-bound people, she says, "There is still yoga out there for you."
A detailed demonstration of how to use a chair to come down to the mat from a standing position safely and carefully for seated and lying yoga poses.

Now for the yoga workouts themselves. Overall, I thought they moved at a slow, gentle pace—great for beginners or people who simply need to move a little slower for whatever reason.

She also offers several great instructions, sprinkled throughout the workouts, that pertain specifically to full-bodied individuals—great tips that you would otherwise never know about if you were following a traditional yoga DVD. For example, in the 24-minute "warm-up" segment (which takes place seated and lying on the mat), she mentions that you can use the space between your legs, which she calls the "belly well" to make room for your belly. She shows you how to physically move your belly out of the way to stretch and twist more deeply, too. In the first of two posture series (about 18 minutes each), she mentions useful tidbits about body position, such as what a hip-width distance really means. "It's not the hip of your flesh," she gently explains while pointing to the widest part of her body, "it's the hip of your frame," she shows, pointing to her actual hip bones and walking her feet closer together.

All the while, Abby is always encouraging and helpful—never demoralizing or condescending. She really wants you to succeed and do whatever YOU can do successfully.

The DVD menu allows you to choose a single segment at a time: warm-up, postures one, postures two, and cool down (savasana). It also offers four pre-set "class" options that edit together parts of each of the main segments, including a "My Way" workout (55 minutes), "Second Time Around" series (53 minutes), "Nice 'n Easy" (36 minutes of gentle floor exercises), and "All the Way" (which puts it all together for a total of 72 minutes of yoga).

Abby's instruction style is very free flowing. This DVD isn't made on an expensive set and sometimes it's not edited perfectly either. It's real—and I like that. A real workout for real people featuring the real body of a woman who might look very much like some of you or many other people you know. It's not intimidating. It doesn't make you feel bad about yourself or like a failure if you can't do it. To me, there is a very true need for MORE fitness products just like this one.

The only downside I find to this DVD is that Abby often stops or slows down to explain certain concepts in greater detail. That's great for people who need the added tips and instructions, but it does interrupt the workouts a little bit and could be bothersome if you are doing the DVD for the tenth time and just want to get on with your workout. However, there are so many benefits to this DVD that I'd say it's a small complaint to make.

If you're overweight, obese or struggle with limited mobility, this DVD is an excellent introduction to yoga for you. Abby's voice is soothing and I think she's a true inspiration. She believes that you don't have to wait until you lose weight to do anything—from trying yoga to reaching for your biggest dreams. By following this DVD, I think you'll experience a greater joy from the body you have right now and feel more confident and fit. If you're eager to try yoga, but intimidated about taking a class or have yet to find a DVD that caters to your specific needs, this could be the one.




You can purchase HeavyWeight Yoga: Yoga for the Body You Have Today from Amazon.com ($22.49) or directly from Abby's website, HeartfeltYoga.com. To see more video previews and appearances that Abby has made to promote HeavyWeight yoga, check out her YouTube channel.

What do you think about the idea of HeavyWeight Yoga? Do you prefer workouts when the instructor has a body like yours and knows what you're going through?

Photo of Abby courtesy of her blog, www.heavyweightyoga.typepad.com



You will earn

5

SparkPoints

Like what you read? Learn more

about SparkPeople,

or

sign up

for your free account today!
Got a story idea? Give us a shout!