We Tried It: A Self-Defense DVD for Women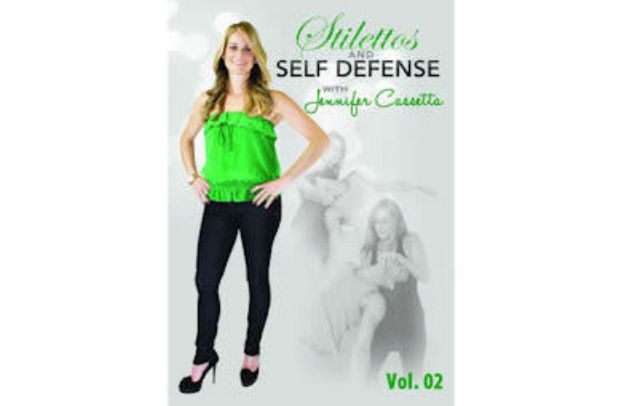 I previously blogged about the importance of self-defense and I still feel very strongly about it being something that every person should know. Because of this, I was very excited that I had the chance to review "Stilettos and Self Defense with Jennifer Cassetta." While this isn't a fitness DVD, which is what we typically review, this DVD does have a lot of valuable information and can help prepare you for possible attacks.

Jennifer Cassetta, a third-degree black belt in HapKiDo and certified personal trainer, is the instructor in this DVD. According to Jennifer's profile information, her HapKiDo experience helped her early on in her training when she was "grabbed on a NYC street, dressed in her highest heels and used her martial arts training to scare off her attacker." So Jennifer has not only been trained in self-defense, but she has also experienced the need for it and is passing along her knowledge to other women on how to defend themselves.


From the DVD cover:

Stilettos and Self Defense is designed for women who enjoy being a woman and have control of their own lives. However, looking confident and being confident are two different matters when personal boundaries are being crossed and when threatened with violence or attacked.

Presented in an easy to follow seminar format, this DVD takes what you learned previously from Defense Tactics, and shows you how to apply those techniques in everyday social situations.

Learn the 4 common attacks every woman is vulnerable to:

An inappropriate grab by a stranger.
Someone you know who suddenly gets violent and throws a punch at you.
The guy you didn't see coming that attacks you from behind.
The attack you see coming at you but you're paralyzed with fear.

(Editor's Note: While the DVD cover mentions that it takes what you learned from another DVD, it is not necessary to view the other DVD first. You can still pick up on the instructions that Jennifer gives, and of course, you always have the option to rewind and watch the instructions again.)


My Take:

Jennifer starts this instructional DVD out by explaining the "ABC's of Prevention." In my opinion, these prevention tips are some of the best pieces of advice that can be given for self-defense. When broken down, the ABC's of Prevention are Awareness, Body Language, and being Centered and Calm. These concepts were highly stressed for me when I started self-defense training and I love that Jennifer does the same! Being aware of your surroundings, not texting or talking on your phone, listening to your headphones, etc. while you are going places and doing things can really make a difference. Someone is less likely to attack you if you are paying attention to your surroundings and walking around with confidence.

Jennifer then discusses and demonstrates the three main targets to be aware of that you can use to strike, how to keep your balance during self-defense, along with a wide variety of self-defense techniques that you can use in various situations. Jennifer and all the women in the DVD wear high heels and clothes that they may typically wear when they go out. It is explained in the DVD that it is great to practice your self-defense techniques like this because you will be better prepared should something happen when you are wearing heels, especially if that is something you typically wear. It is very different to balance and/or move when wearing high heels, plus they can be used as a weapon if necessary. After reviewing this DVD, I can see just how good it really is to do this in all types of shoes and clothing options that you may be most likely to wear just so you can practice and be prepared the best you can.

Overall, even though I believe it is best to learn self-defense in person with an instructor who can work specifically with you and allow you to properly practice and get the techniques down correctly, "Stilettos and Self Defense with Jennifer Cassetta" DVD is a great way to learn self-defense at home, especially to work on your techniques in your various shoes and clothing options. With some practice of the techniques taught in this DVD, I'm sure many women can gain some confidence and learn a lot of practical ways to defend themselves. This DVD has a lot of great features and Jennifer does a wonderful job in explaining everything. If you have little to no experience in self-defense or don't have access to self-defense classes, then this DVD is for you!


"Stilettos and Self Defense with Jennifer Cassetta" is available from Jennifer Cassetta's website (currently $22.95) or amazon.com.


Is this a video you would consider trying? Why or why not?



Photo Credit: jennifercassetta.com



You will earn

5

SparkPoints

Like what you read? Learn more

about SparkPeople,

or

sign up

for your free account today!
Got a story idea? Give us a shout!