DVD Review: 'Canyon Ranch: Strong & Sculpted'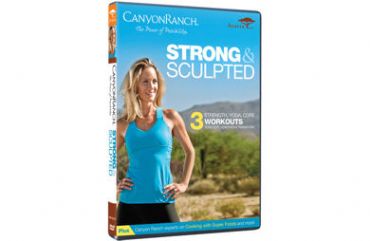 You may have heard of
Canyon Ranch
, the popular destination for weight-loss and fitness, but perhaps you haven't been able to book a wellness vacation yet. That's OK because Canyon Ranch is now bringing their workouts to you! Canyon Ranch offers a very effective total-body workout with their new "Strong & Sculpted" DVD that won't disappoint. It includes a variety exercises that aren't difficult for beginners, yet are still challenging for exercisers at an intermediate/advanced level. Learn more about what the DVD is like!
You can find a preview of "Canyon Ranch: Strong & Sculpted" DVD on
YouTube
.
What They Say (From the DVD Cover):
"For more than 30 years, people have journeyed to Canyon Ranch to enjoy award-winning wellness vacations. Now you can bring the Canyon Ranch experience home for the first time with these three 20-minute workouts for total-body transformation. Filmed at the stunning flagship resort in Tucson, Arizona, and featuring Canyon Ranch instructors, these three segments are designed to work together to firm, tone, and invigorate your entire body.
The workouts include a dynamic strength-training segment to build strong bones and long, lean muscle; a fluid, easy-to-follow yoga flow for more body sculpting and to improve balance and flexibility; and a powerful core segment to work the muscles of the abs and hips that are key to a powerful, smoothly functioning physique. With this program, you'll chisel your muscles, focus your mind, and transform your body!"
What We Say:
This DVD will have you working all your muscles and the only equipment you need is a pair of dumbbells and a yoga mat. Each of the three segments are 20 minutes long with the option to add the cool down after the core and strength training segments or the savasana option at the end of the yoga segment.
Darcy McCue and Heather Schmidt are the instructors in this video and it is obvious that they are very knowledgeable—something I look for in any workout video. Looking at
Acacia's website
, I found that both Darcy and Heather have many years of experience as fitness professionals and have been with Canyon Ranch for quite some time, too. As they lead you through each exercise, you can tell they are passionate about what they do and want to help you achieve your goal for total-body transformation.
The workout DVD is broken up into three different 20-minute workouts.
20-Minute Core Workout
Darcy leads the 20-minute core segment, along with the optional 5-minute cool down. Darcy does a great job in cueing you with what is coming up next, explaining what you should be doing at the moment, along with where you should be feeling your muscles being worked. When she says that your muscle should be feeling like they are on fire, she means it! Even though this is a core segment, you are still doing a lot of other muscle work in addition to working your core, which includes some standing core work (it's not just crunches and floor work, which was a nice change of pace). After doing this workout segment even just a few times, you will be sure to feel some changes in your core and balance.
20-Minute Strength Training Workout
Heather leads the 20-minute strength training segment, along with the optional 9-minute cool down. Just like Darcy, she explains everything well and does a good job with her cues. Heather also does a great job of telling how to safely perform the exercises and continues to remind you to keep proper alignment, along with telling you what the proper alignment should be for the various exercises. She also gives you some options to make some exercises easier or more difficult, depending on what your needs may be. Something else that is very noteworthy here is that Heather also mentions that you should "listen to your body as you move today." I love that she says this as some days your body may be up for a more challenging workout, while others it may not -- so do as she says and listen to what your body is telling you.
20-Minute Yoga Routine
Heather also leads the 20-minute yoga segment, which has an optional 5-minute savasana that can be added on to the end of the segment. The yoga workout flows very nicely, and again, Heather does a great job talking you through all the poses. Just as they say on the DVD cover, this yoga workout is great for sculpting your body and working on your balance and flexibility, while also energizing your body at the same time.
Some parts of the workouts are pretty fast paced, so for anyone that is a beginner to exercise or that generally needs more time to learn the exercises before doing them at full speed, you may want to watch the DVD before your workout. I find that to be helpful before trying any new workout video, regardless if you are a beginner or not. Doing that helps you know more of what to expect, especially when you are doing yoga poses that you should have your head down and neck relaxed (not looking at the TV).
In addition to the three 20-minute workouts on this DVD, there are also some bonus features that include some information from the experts from Canyon Ranch that discuss building lean muscle, healthy joints, and cooking with super foods to help reduce inflammation. Along with those bonus features on the DVD, there is also a recipe booklet that features seven healthy recipes from the chefs at Canyon Ranch.
Bottom Line
The "Canyon Ranch: Strong & Sculpted" DVD is a great total-body workout! Your muscles will really work during each individual segment, but you have the option to do all three segments at once if you choose to do so, making for a great hour-long workout. I love how professional and knowledgeable both instructors are, along with how they focus on mentioning how to safely perform the exercises. If you are looking for a great workout that will really work your muscles and help you achieve total-body transformation, then this just might be the workout DVD for you!
It is available from
amazon.com
(currently $14.99) and other retailers as well as other online retailers and stores.
Have you ever heard of the Canyon Ranch? Are you interested in trying the variety-packed workouts on "Canyon Ranch: Strong & Sculpted"?
Photo Credit
:
Acacia



You will earn

3

SparkPoints

Like what you read? Learn more

about SparkPeople,

or

sign up

for your free account today!