Double DVD Review: Core and Cardio with Amy Dixon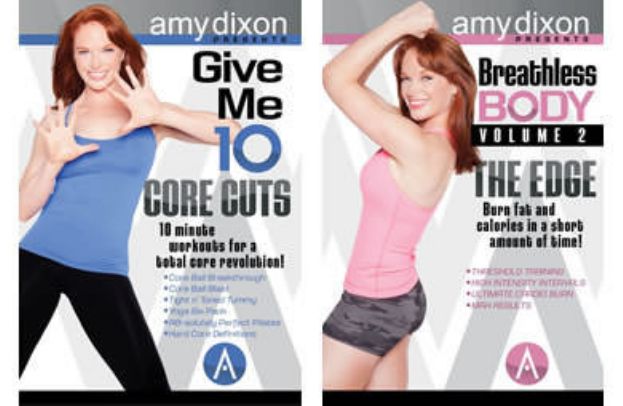 I try a lot of workout DVDs. But few really meet my standards for delivering a good workout with good cueing that's easy to follow and safe. But every workout DVD I've ever tried by Amy Dixon has been a winner.

I was SO excited to receive her newest titles ("Breathless Body Volume 2: The Edge" and "Give Me 10: Core Cuts"), but my busy schedule prevented me from trying them sooner—which is too bad. Because when I made the time, I adored these workouts just like I had previous her previous titles. What's more, I think YOU will love them, too. Here's a rundown on what to expect in each one.


Breathless Body Volume 2: The Edge
I raved about Amy's first Breathless Body DVD, which featured Tabata-style cardio intervals. This concept is a little different. Like the first Breathless Body DVD, this one also features three intensity levels for every drill, including a modified intensity that would be appropriate for almost any beginner, and a high-intensity demo that would challenge even the fittest exerciser. I love that approach, because that means this DVD is one you can grow with and continue to use.

Each section contains a set of three cardio drills, which you perform for 30 seconds each (with rest in between) a total of three times. After that, it's on to the next set of three new drills. The DVD features 12 drills (4 sets) overall. You can choose to work out with a single set or mix and match them—or do all 12 in one workout. The final section of the DVD combines all 12 drills back-to-back for a total of 6 minutes of high-intensity work. To see what the different drills (and various intensity options) are like, check out the preview below:



I found that I was able to cater each drill to my fitness and energy level, mixing it up between going moderate, easy, and hard. There are no complicated moves or choreography. You can go at your own pace—you don't even have to stay with the instructor, making this totally customizable.

If you're looking for a no-frills cardio workout with a lot of options for every fitness level, Amy Dixon delivers in "Breathless Body 2." She's encouraging, relatable, and not a drill sergeant type, but she definitely pushes you to do your best. It's available at amazon.com ($15.99), collagevideo.com ($15.99), and amydixonfitness.com ($19.99).


Give Me 10: Core Cuts
At SparkPeople, we love 10-minute workouts. This DVD, which features six different 10-minute routines doesn't disappoint. You can try just one, a combo of your choice, or the full 60-minute corefest. While some of the workouts don't require any equipment, others use a dumbbell, a ball, or both. The ball they use is actually a $60 BOSU Ballast ball, which contains weighted pellets that shift around as you move, adding more challenge because of the momentum they create. (I have used and do love my Ballast ball at home, but we tested this with standard stability balls, and it still delivers.)

Check out the preview below, then read on for details on each of the six workouts.

Hard Core Definitions:This mat workout takes place on the floor and doesn't require any equipment. It features different variations on the basic crunch, elbow plank, leg lifts, and back extensions, but most of them I'm sure you've never done before. Lots of variety!
AB-solutely Perfect Pilates: This routine uses a mat and no other equipment. You'll do classic Pilates moves like the Hundred, roll-ups, crisscross, and single-leg stretch, as well as some other Pilates-inspired moves that target your deep abdominals and obliques.
Yoga Six Pack: This is a fun and unique routine that involves a lot of standing movements and yoga postures that will challenge your balance, which engages your core and improves flexibility. Most exercise use basic yoga moves (triangle, plank, tree, three-legged dog, side plank) and then adds a little something extra to make them interesting.
Tight n' Toned Tummy: This segment uses a single dumbbell and a mat. It features some standing kettlebell-inspired moves (swings) and exercises like squats and lunges that combine with upper body movements and rotation to work your core without doing crunches. It's full of unique, full-body moves that train your core (and entire body, actually) in a functional way.
Core Ball Blast: You'll do standing and floor exercises in this workout that uses a stability (or Ballast ball) and a mat. It was a lot of fun! You pick up the ball and move it around a lot—on the floor, away from your body, overhead—it's probably the most fun you'll ever have working your abs! It also incorporates a lot of functional balance training.
Core Ball Breakthrough:This final segment takes place completely "on the floor" with the ball and mat. You'll do various crunches on the ball (including moves I've never seen but really loved). Many of the exercises involve lying/balancing on the ball with only one foot and one hand on the floor—a real challenge!
Every workout features one exerciser showing modifications, although you don't get a great look at her and not every modification is explained. Overall, I wouldn't say this is a workout for beginners since the moves are a little complex and the pace is fast—better for intermediate to advanced exercisers. Amy moves at a fast pace through all of these, with quick transitions between moves that might leave you behind for a couple reps the first time you do the DVD. But as you do it a couple times, you'll know what to expect and be happy that she squeezes so many moves into a short workout. Each one really FLIES by! Sarah and Melinda, my SparkPeople co-workers, tried it with me. Here's what they thought:


"I really liked how this video was broken into 10-minute segments. The time went quickly and the workouts were great – my abs were definitely sore the next day. The workouts were challenging, but not too difficult. And Amy's upbeat, positive attitude keeps you motivated!" – Sarah

"This core DVD was a welcome change from regular old crunches and planks. I loved the moves that incorporated the ball—they really challenged my entire torso!" – Melinda


"Give Me 10: Core Cuts" offers plenty of variety for intermediate exercisers who want to change up their core workouts and improve their balance just 10 minutes at a time. It's available at amazon.com ($16.99), collagevideo.com ($16.99), and amydixonfitness.com ($19.99).

As one of the most dynamic and creative exercise instructors in the industry today, you won't ever go wrong with one of Amy Dixon's fitness DVDs. I highly recommend her workouts and these new titles!

Have you ever tried one of Amy Dixon's workouts? Do these workouts look fun and interesting to you? What is your favorite new workout DVD?



You will earn

5

SparkPoints

Like what you read? Learn more

about SparkPeople,

or

sign up

for your free account today!
Got a story idea? Give us a shout!