Breaking Bread at the FoodBuzz Festival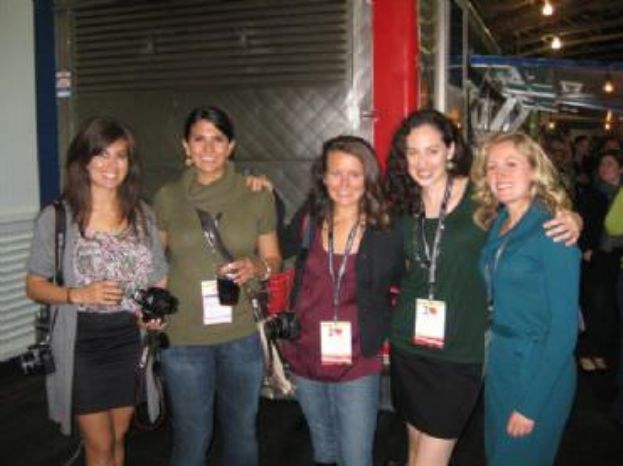 One of the only downsides of working for a website is that we don't get much face time with our members and colleagues. I do, however, get to spend a great deal of time with the talented and generous team that keeps SparkPeople running smoothly, so I really can't complain. But the thing is, everyone here already knows what we do and why we do it. When I get to step outside the office and "Spread the Spark," it's a real treat.

I had just such an opportunity in early November. I attended the second-annual blogger festival hosted by FoodBuzz. Over the course of the long weekend, I ate wonderful food, walked miles and miles around San Francisco, and met bloggers (and SparkPeople fans) whom I'd only known online. It was almost as fun as our SparkPeople Convention last fall!

I learned about food photography (mostly I learned just how much I have to learn), stretched my mind during a writing workshop, and picked up plenty of tips from other bloggers and chefs.

This weekend wasn't about healthy living, it wasn't about dieting or working out, and it certainly wasn't about deprivation. It was about celebrating food, something that I've really only been able to do for a few years without guilt.

For too many years, food was something to fear. It was only calories and fat, which equated to pounds. Food no longer holds that control over me, and I love to eat. I love to cook. I love to talk about food, shop for food, take photos of food, write about food, and read about food.

That weekend, my schedules and healthy habits were rearranged by time changes and social events. I didn't stress out. I didn't even think about it. I lived in the moment, ate when I was hungry, and abstained when I wasn't. There are no food "confessions" and no complaints.

What struck me most about the events of the weekend was the diversity of the attendees: dietitians, endurance athletes, and daily food journalers; home cooks, top chefs, and restaurant insiders; fans of home cooking, kitschy baked goods, and molecular gastronomy. Everyone was there to celebrate food with all the senses.

I want to share with you a few of the bloggers I met, along with their stories. Many of them are not healthy living bloggers, but they are talented writers, photographers, and storytellers. You might be interested in reading and viewing their work. I know they inspire me, even those who don't necessarily eat the same way I do.

Then again, with more than 9 million SparkPeople members, there is a good chance that you'll find culinary inspiration that suits your lifestyle.



Gina of Fitnessista.com is a dear blogger friend of mine. She's a trained raw chef and personal trainer. She's also a military wife with a killer raw macaroon recipe that's under lock and key.

Meghann of Meals and Miles (formerly GraduateMeghann.com) lives to run. And eat. We've been Twitter friends for quite awhile, so it was great to really "meet" her.

Sabrina of Rhodey Girl Tests is an entertainer extraordinaire.

Brittany of Eating Bird Food is a Southern gal born and bred, but she's keen on healthier eats these days. She's also a runner.

Linda, aka Salty Seattle, is feisty. She's a foodie fashionista. And she makes her own salt. She's all-around fabulous.




Samantha of The Second Lunch (above, left) was the first blogger I met on Friday. She's better known as ALPHAPREP on SparkPeople.

Teri of A Foodie Stays Fit (above, right) actually squealed when I met her. She loves SparkPeople. She teaches group fitness, loves to bake, and is full of energy.

Elina of Healthy and Sane is a healthy living blogger who was born in Moldova. She now lives in Boston and is on a quest to lose weight while, you guessed it, staying sane. (Psst, head on over and tell her more about SparkPeople!)




Jenna of Eat Live Run (above, left) and I spent an hour in the San Francisco airport getting to know each other while we waited on our third roommate. We bonded over our love of macarons, Paris, and travel. Oh, and I share her affinity for anything related to Laura Ingalls Wilder.

Anne of fANNEtasticfood (above, right) is no stranger to readers of the dailySpark. This dietitian-to-be has been sharing quick lunch tips with us for months. She was the third roommate we were awaiting that night.

Annelies was my tour guide extraordinaire while I was in San Francisco. In addition to working for Attune Foods (stay tuned for more info on the company), she keeps a lovely food and photo blog.




Julie (above) is the blogger behind Willow Bird Baking. Warning: You will not find healthy recipes on her site, but you will find the sweetest and kindest person you've ever met. Her adorable Southern accent and affectations even come out in her writing.




Chef Todd Fisher tempted this vegetarian with fresh pork rinds, still glistening with grease, the first time we met. I resisted. (He had no idea who he was dealing with.) The next day he redeemed himself by dishing up my real love: greens! Check out his Sierra Crisp Herb Salad with Toasted Quinoa and Smoked Pecans in a Fresh Cranberry Vinaigrette.

Gabriela of Une Vie Saine (A Healthy Life) and I are fellow Francophiles, and she maintains a healthy almost vegan diet while juggling a full load of classes at NYU.




Tina (above) of Carrots 'N' Cake has seen her blog explode in popularity in the last couple of years, and her first book comes out next year. She's kind and down-to-earth--and really funny!

Leah of Leftovers for Lunch and Rhonda of the Kitchen Witch Blog were my roommates for the remaining nights of the festival. What a great time we had. These two are hilarious! I can't wait to reunite with them next year. We celebrated Rhonda's birthday that weekend--such fun.




Mara (above) of What's For Dinner? did a double-take when I asked her if she knew about SparkPeople. Of course she knows about SparkPeople. She LOVES SparkPeople! And we love her. She's clever. One of her recent recipes: maple-bacon cupcakes. Oh, yes. She did.

Liz is the "crazy" of Lazy Cook Crazy Cook. A fellow world traveler, we share a love of Turkish breakfast and Morocco.

Janetha of Meals and Moves sat next to me during lunch on Day One. She's a devoted fan of Trader Joe's and has been known to travel with an extra suitcase to accommpdate her purchases.

Kath's blog, Kath Eats Real Food is the first food blog I ever read.




Emily (above) of the Front Burner Blog is another blogger who might seem familiar. This Cincinnati native, who's a trained vegetarian chef, shared her journey to healthy living with us last month.

Allie of Live Laugh Eat and I kept running into each other at Starbucks. She's famous for her granola bars, but she's not ready to share that goldmine just yet. Also: She's a recent college graduate who's in search of a job!

Heather of With a Side of Sneakers is one of the most active people I know. She's passionate about fitness.

Kaitlin of Kaitlin with Honey is just as sweet as her blog.

Ashley of the Edible Perspective is an incredible food photographer. She's also keen on barefoot running and a fellow Ohioan, too!




Vegan or not, you will love Mama Pea (Sarah, above) of Peas and Thank You. She loves food and her family, and her darling girls are the best eaters you'll ever meet. (Maybe she'll share her secrets some day!) If you have trouble getting your kids to eat right, read her blog.

Susan of The Great Balancing Act came all the way from Canada for the festival. We only spoke briefly, but this personal trainer and SparkPeople fan will be writing a guest blog for us soon.

Alexa of The Girl in Chucks is a SparkPeople Success Story from way back. Known around here as SIMPLYTHAT, she and I had a lovely albeit rainy walk around the city. This girl rocks!

Bill of Freestyle Cooking is a Cincinnati native who's an urban planner by day and a talented chef by night. His posts delve into the science of cooking, and his savory pies are famous among FoodBuzz attendees (go ask him for the recipes!).

Last but not least, I have to thank the entire FoodBuzz team for an incredible weekend. Charlie, Ben, Ryan the Girl, Kiki, Alexa, and everyone else, I'll see you next year!

Do you read any of the blogs I've listed? If not, will you start reading any of them? Have you ever met your online friends?

Top photo from left: Gina, Sabrina, Meghann, me, and Anne. We actually caused a traffic jam when we started posing. We felt like celebrities because other people were taking our photos! (Very normal in the food blogging world!)



You will earn

5

SparkPoints

Like what you read? Learn more

about SparkPeople,

or

sign up

for your free account today!
Got a story idea? Give us a shout!