Bone Health for Kids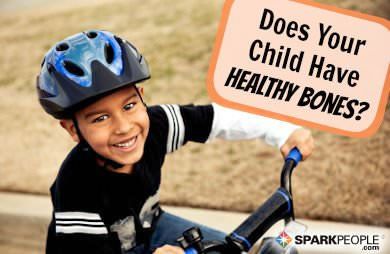 Brittni Reum's first broken bone happened in her right heel at age 10. She suffered four more fractures over the next three years in her arms and knee—all from seemingly minor mishaps while playing on the monkey bars or shooting hoops in gym class. "Brittni seemed so fragile that I was afraid to let her go outside or play sports," says her mom, Michele, an accounting manager in Jacksonville, Florida.

Enrolling in a bone-density study at nearby Nemours Children's Clinic revealed that Brittni had osteoporosis. Doctors prescribed calcium supplements and told her to load up on dairy products. Michele hadn't been including much dairy in her daughter's diet since Brittni developed a milk allergy as an infant (most kids outgrow the allergy by age 5). Fortunately, the damage wasn't permanent. Today, at 17, Brittni's bone density is normal, and she hasn't broken any bones in several years.

While her case may sound extreme, Brittni is far from the only teen who needs to be paying attention to bone health. In fact, according to the USDA, 81% of teen girls and 48% of teen boys fail to meet their recommended daily intake of calcium—1,300mg until age 18 and 1,000mg after that. The shortfall comes at a pivotal time because from ages 9 to 18, hormones such as estrogen and insulin-like growth factor 1 kick in, prompting the body to store calcium.

"The teen years are when you acquire nearly half of all the bone you're going to have for the rest of your life," says Susan Coupey, M.D., chief of adolescent medicine at the Children's Hospital at Montefiore in New York City. Your child draws from this "bone bank account" throughout adulthood, especially after age 50, when bone mass naturally starts to decline. If your kid doesn't build bone now, she may not reach her peak bone density. The good news: Research shows that boosting bone density by as little as 5% during the teen years lowers the risk of fractures later in life by 40%. Help your kids maximize their bone-building window of opportunity with our action plan.

Click here for more ways to keep your kids bones healthy from Family Circle.

More from Family Circle:

Do your kids have healthy bones? How are you helping them?





You will earn

5

SparkPoints

Like what you read? Learn more

about SparkPeople,

or

sign up

for your free account today!
Got a story idea? Give us a shout!