Banish Dry, Winter Workout Skin With These 10 Essentials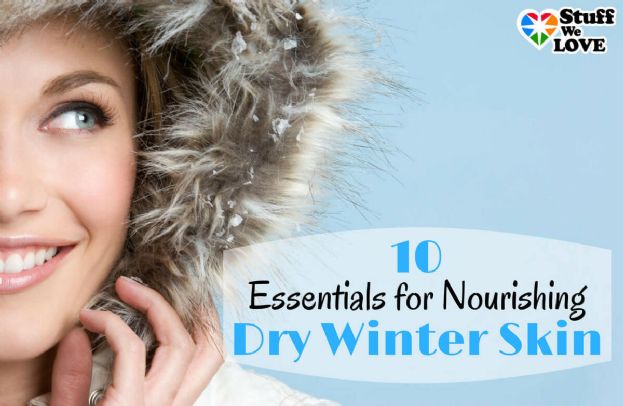 It's hard enough to find the motivation to get up, get dressed and get out the door for that 10K training or trip to the gym any time of year. Trying to do it against the cold, windy, overcast days of winter makes it that much more difficult, especially when the bitter breeze makes it feel like pins and needles are driving into your flushed cheeks and hands. Between outdoor workouts, sweating it out in spin class or just running in and out of the manufactured heat, though, there's a good chance your winter skin is coming up short, leaving you with dry, red or chapped skin. Give your skin the extra bit of help it needs this season to protect and heal before, during and after your winter workouts.

When Your Rosy Cheeks Overstay Their Welcome
Aquaphor, $13.55 (14-ounce jar)



Photo courtesy of Amazon.



Not just for babies anymore, Aquaphor is synonymous with awesome when it comes to healing dry, cracked cheeks, lips, hands or heels and soothing just about every bothersome body part. Petroleum in the ointment permits the flow of oxygen to your skin to aid in healing, while it protects with the power of panthenol and glycerin.

For Daily All-Over Moisture
Aveeno Daily Moisturizing Lotion, $9.49


Photo courtesy of Amazon.



Protect skin all over against the wicked winds of the north, south, east and west with the soothing colloidal oatmeal found in Aveeno products. Recommended by dermatologists for all skin types, oatmeal helps your skin return to a normal pH level and also protects it from the harsh elements by maintaining your natural moisture barrier year-round.

To Replenish After a Hot, Hot Shower
The Body Shop Body Butter, $14.96



Photo courtesy of Amazon.



Even though you know too-hot showers will only make your dry skin worse, they've become standard in the winter—nothing feels better than a steaming shower to warm up after a frigid run. Continue that good feeling after your shower with The Body Shop's shea body butter. The thick, creamy, awesome-smelling lotion goes on like, well, butter, and keeps your skin hydrated for up to 24 hours. Vitamins A and E also help to soften skin and prevent dryness.

Take the Sting Out of Chapped Lips
Burt's Bees Lip Balm, $9.99



Photo courtesy of Amazon.



As the name implies, this 100 percent natural, lip-saving product comes infused with beeswax to act as a natural skin conditioner, vitamin E to moisturize and peppermint oil for that minty, fresh tingle that tells you it's working. Buy the multipack so you're never too far away from your Bees.

Because the Sun's Still Out Even If Your Guns Aren't
Neutrogena Ultra Sheer Dry-Touch Sunscreen, $11.39



Photo courtesy of Amazon.



Even though there are days on end in the winter where you're certain you'll never see the sun again—it's still there, somewhere, wreaking havoc on your skin. Even on a cloudy day, 80 percent of the sun's UV rays can still pass through. Thinking of a ski trip? Know that another 80 percent of the sun's rays can be reflected back to you—and it gets worse at higher altitudes. Protect the skin you're in with a waterproof sunblock with a high broad-spectrum SPF, such as this one from Neutrogena, which comes with the Skin Cancer Foundation's seal of approval.

Take Moisture into Your Own Hands—and Home
TaoTronics Cool Mist Humidifier, $71.99



Photo courtesy of Amazon.



Another product stolen from the rooms of babes adds moisture to the air while you sleep or watch Netflix (or both). This noiseless humidifier can hold more than a gallon of water and works for up to 15 hours, adding moisture to the air in any room of your home. Water, as we know, is essential to keeping your skin moist so give your skin some help in its time of need to plump back up in between outdoor sweat sessions.

Stop the Search for Your Hair Miracle
it's a 10 miracle hair mask, $19.69 (eight-ounce jar)



Photo courtesy of Amazon.



Hair is not immune to the punishing effects of winter. Even if you wear a hat, the dry air, wind and static will find a way to damage your strands. One of the best ways to combat this is with a weekly hair conditioning treatment. It helps replenish moisture, restore elasticity, soften, smooth, defrizz and a host of other hair-friendly adjectives.

Moisturize While You Wash
NIVEA Care and Happiness Moisturizing Body Wash, $10.17



Photo courtesy of Amazon.



Replace your everyday soap with a moisturizing body wash to help sooth and nourish dry skin as you shower. While the scent of orange blossoms energizes you, the bamboo extract in the soap smooths and moisturizes your skin, leaving you feeling healthy and soft long after you dry off.

Oh, Yes, We Do Want Some Scrubs
Tree Hut Shea Sugar Scrub, $16.44



Photo courtesy of Amazon.



Grab one of the scrubs from this three pack and get to work exfoliating your dry skin. While the coconut lime scent evokes memories of summers on the beach, the shea butter repairs and moisturizes as the sugar grains and finely ground coconut shells polish away dry and damaged skin. It's the triple threat you need.

Kick Dry Heels to the Curb
O'Keeffe's for Healthy Feet Foot Cream, $8.31



Photo courtesy of Amazon.



While you might think dry, cracked heels are solely for summers spent in flip-flops, think again. Heels are just as likely to suffer from a lack of moisture, even buried deep in layers of socks and shoes. Enter O'Keeffe's for Healthy Feet Foot Cream. With 4.5 stars and more than 5,200 reviews, this extra-thick foot cream is a favorite for healing and relieving overly dry, cracked, sore heels. Apply after showering or at bedtime, and you'll begin to see improvement in just a few days.

Which products do you use to sooth dry skin and hair in the winter?

We hope you love these products as much as we do! SparkPeople may collect a small percentage of revenue from the links on this page.




You will earn

5

SparkPoints

Like what you read? Learn more

about SparkPeople,

or

sign up

for your free account today!
Got a story idea? Give us a shout!