CONTEST CLOSED: Win 1 of 3 Ball Canning Kits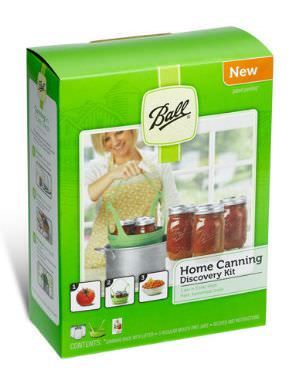 CONTEST CLOSED Four years ago, upon moving to Cincinnati, I immediately set about exploring my new hometown. I quickly stumbled upon what has become one of my favorite places in the city: Findlay Market, the oldest public market in Ohio. Home to a farmers market, vendors selling local and ethnics ingredients, and plenty of interesting food shops, it's a foodie's heaven. I immediately starting buying whatever produce I could at the farmers market, even freezing and dehydrating some, such as tomatoes and cherries, for winter.

Though my mom now has a large garden and cans tomatoes, salsa, and pasta sauce each year, I've never learned how. With a husband and only two kids in the house instead of four--and those two kids are now teenagers and not infants--she has time for many of the tasks she had to put on hold while she was raising us on her own. (Besides, I was such a prissy pill in high school that I wouldn't have eaten anything we grew or canned ourselves anyway.)

This year, with my first house and my first garden, filled with a dozen tomato plants, five hearty basil plants, and a couple dozen other plants (herbs, cucumbers, zucchini, and four kinds of peppers).

No one warned me that 12 tomato plants is excessive for two people! With the garden currently yielding a quart of tomatoes a day, we're finally ready to take the big leap… and try canning. And, as luck with have it, the good folks at Ball reached out a month ago and invited Nicole and me to a canning luncheon.

They've created a new canning kit that costs just $11.50, is available at big box retailers and supermarkets, and aimed at people who are newer to canning. With just 3 pint jars, it's perfect for people like me who want to spend an hour or two canning--not days like my mom does.

Ball is giving away three of the new Discovery Canning Kits in honor of our dailySpark Anniversary! They say: "Foodies who love new cooking techniques will appreciate this low-cost starter set. A modern product design/ trendy recipes attract new consumers to trial using existing kitchenware."

Read on for some of the surprising things I learned about canning during the luncheon:

First, something that didn't surprise me is that all of Ball's recipes (many of which are included in the kit) are USDA approved, meaning that you can rest assured your recipes will can safely.

I didn't know that you could create plenty of recipes with little to no salt or sugar. Though canning definitely an area of cooking where you must follow the rules, there is a bit of room for creativity and personal nutritional preferences.

The acid levels, headspace (empty space at the top of the jar), and ingredient ratios are crucial to maintaining canning recipes' integrity. Salt and, to a lesser extent, sugar levels can be adjusted.

That's great news for health-conscious people or those who have to avoid salt or sugar.

I'll be posting a review of the kit as soon as I can my first tomatoes. Wish me luck!

Enter the contest here. As always, the rules apply, and the contest ends a week from today (Monday, Aug. 23, 2010, and 5 p.m. EST.) Do you can? What do you usually can? Did you know you could reduce the salt and sugar?

Note: Ball provided the dailySpark with two complimentary kits to review, and they are providing the three kits for readers.



You will earn

5

SparkPoints

Like what you read? Learn more

about SparkPeople,

or

sign up

for your free account today!
Got a story idea? Give us a shout!