An Age-by-Age Guide to Teaching Kids How to Invest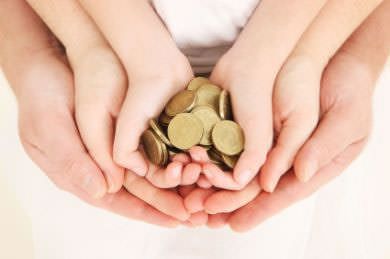 Investing can be child's play. A little wisdom now can lead to long-term gains for your kid's future.

UNDER AGE 9: As soon as your child grasps the concept of a dollar, start talking about saving and delayed gratification.

1. Implement a weekly allowance. While some parents use it as a reward for completing chores around the house, it can also be a teaching tool to show that earning money is a separate and important skill, says Joline Godfrey, author ofRaising Financially Fit Kids.

2. Help kids create a simple budget. Explain the benefits of putting money aside for toys, ice cream outings or other things Mom and Dad usually pay for.

AGES 9–12: Tweens are mature enough to appreciate the concept of using money to make money, says Godfrey.

1. Once your child has saved $100 from his allowance, take him to the bank to open a savings account. Allow him to fill out the paperwork so he gets comfortable interacting with financial institutions, says Carrie Schwab-Pomerantz, a senior vice president with Charles Schwab.

2. Consider gifting your child one share of a publicly traded company that he likes, such as Walt Disney, Microsoft or Coca-Cola (share prices range between $30 and $70), suggests Justin Fulton, a principal at Signature in Norfolk, Virginia. Show him how to monitor the stock's price online.

AGES 13–15: Teens are ready to grasp more complex financial lessons and may ask if investing is risky. While there's no guarantee stocks will increase in value, over the past 10 years the stock market as a whole has appreciated 2%; in the past 20 years, 4%. Investing is also the best way to beat inflation, says Schwab-Pomerantz.

1. When your teen has at least $100 that is not earmarked for something else, open a custodial brokerage account and invest the money in an S&P 500 index fund. Buying this sort of mutual fund limits risk (you're investing in a diversified basket of holdings). Review the monthly account statement with your teen.

Click here for more tips on how to teach kids to invest from Family Circle.

More from Family Circle:Have you taught your kids to invest?




You will earn

5

SparkPoints

Like what you read? Learn more

about SparkPeople,

or

sign up

for your free account today!
Got a story idea? Give us a shout!