8 Useful Kitchen Tools for the Healthy Cook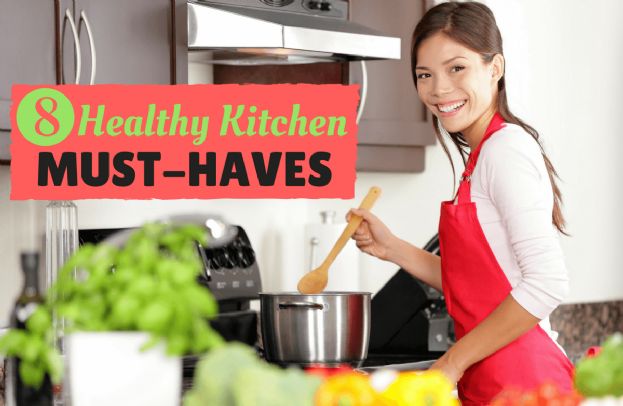 How many times have you succumbed to takeout because it seemed like too much work to prepare a healthy meal at home? When you have a well-equipped kitchen, cooking nutritious foods doesn't have to be a chore. Whether you're cooking for a big family dinner or just making a meal for one on a Tuesday night, having the right tools makes kitchen time more effiicient. Add these eight tools to your kitchen to make cooking at home less of a hassle and more enjoyable.

1. Silpat Non-Stick Baking Mat (starting at $13.00)



Photo courtesy of Amazon

Non-stick silicone baking mats are great ways to cook items without any added fat. Whether you're baking cookies or roasting veggies, you can be sure your food won't need to be pried off the mat.

2. OXO Multi-Purpose Scraper and Chopper (starting at $9.95)



Photo courtesy of Amazon

A scraper is the perfect tool to speed up your prep time and keep your cutting board neat. Every time you grab your knife, collect the scraper as well. The straight edge lets you scoop up your chopped veggies without dulling the edge of your knife. The straight but not sharp edge makes this safe for new cooks and kids, too.

3. Tortilla Shell Pans ($24.99)


Photo courtesy of Amazon
You won't need Mexican takeout when you have these tortilla shell pans in your kitchen. No need for deep frying the tortilla in quarts of oil—use these pans to easily cut out the fat found in traditional taco salads. Bake them in the oven with just a mist of non-stick spray. You can also use these pans to bake cookie dough, filo dough or even cut pie crusts into "cups."
4. Cooking/Cooling Racks ($7.95)



Photo courtesy of Amazon

Oven-safe cooking and cooling racks are extremely useful to have in the kitchen. Use them to lift meats off baking or roasting pans to allow fat to drip away from your meat and onto the pan. They're also a must for faux frying foods by keeping the breaded foods elevated so the heat reaches all sides to give a "just fried" appearance without added the fat.

5. KitchenAid Immersion Blender ($47.99)



Photo courtesy of Amazon

I love tools that will handle more than one job in the kitchen. This immersion blender does so much more than just puree foods—it also chops fresh herbs to add to salsas, soups or salad dressings. Plus, it's perfect for making quick smoothies for a healthy breakfast or snack.

6. Cuisipro Stainless Steel Measuring Cups and Spoons ($44.90)



Photo courtesy of Amazon

A recipe that results in a perfect dish is actually a formula with specific ratios. Don't risk upsetting that ratio and risking failure by using warped or inaccurate measuring cups and spoons for your dry ingredients. These stainless steel Cuisipro cups will not change in shape after endless runs through the dishwasher, so your teaspoon of baking soda will remain just that.

7. Norpro "Wonder" Measuring Cup ($8.40)



Photo courtesy of Amazon

In the kitchen, dry and liquid measuring cups are not interchangeable. But what if you're measuring something that's in between—say, something sticky? To ensure perfect results, reach for the "Wonder" measuring cup, which can easily measure sticky ingredients like honey, nut butters or tahini. Because of the tube style, you get the correct amount needed, without all the mess of a traditional measuring cup. Just slide up the measuring cup to push out the food.

8. AccuSharp Knife Sharpener ($8.09)



Photo courtesy of Amazon

If your go-to knife is dull, you will apply more pressure when cutting and chopping, which can lead to a slip and then a cut. Keep your knives sharp with an affordable and easy-to-store knife sharpener.

What are your favorite healthy cooking tools?
You might also like: Chef Meg's Top 10 Tools for a Stress-Free Kitchen
We hope you love these products as much as we do! SparkPeople may collect a small percentage of revenue from the links on this page.



You will earn

5

SparkPoints

Like what you read? Learn more

about SparkPeople,

or

sign up

for your free account today!
Got a story idea? Give us a shout!