7 Ways to Beat Stress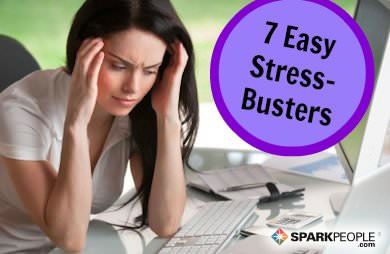 It's been a long, long day. You skipped lunch, ran 50 errands, and now you realize that your whole head is aching, you are seriously cranky, and every muscle in your body is sore. Your life, as they say, is out of control. But that doesn't mean you have to suffer. "There's a lot you can do to relieve stress, even in a single moment, if you prepare yourself," says Herbert Benson, M.D., director emeritus, Benson-Henry Institute for Mind-Body Medicine at Massachusetts General Hospital. Next time you're feeling frenzied, frustrated, and fed up, try one of our instant serenity tips.

Tension Trigger #1

It's 3 a.m. and you're wide awake, heart racing as you worry about tomorrow's staff meeting.

How to Stress Less: Picture a soothing scene.

"Our bodies respond as well when we imagine walking on the beach or sitting in our backyard as when we actually go there," says Leslie Davenport, author of Healing and Transformation Through Self-Guided Imagery (Celestial Arts). Mental images are a powerful way to create a calming link between the mind and body. Close your eyes and take a few slow, deep breaths. Spend five minutes visualizing a peaceful spot, making it feel real by noticing details like air temperature, sounds, scents, and colors.

Tension Trigger #2

The kids are clamoring for dinner, your mother calls to say she needs you to pick up her prescription right this minute, and your neck and shoulders are in knots.

How to Stress Less: Give yourself a mini-massage.
"It's a fail-safe way to reduce your heart rate, slow the release of stress hormones, and boost serotonin," says Tiffany Field, Ph.D., director of the Touch Research Institute at the University of Miami School of Medicine. Try this anywhere, anytime shoulder stretch from Katy Dreyfus, author of The Massage Deck (Chronicle Books). Tilt your head to the right. With your right hand, press into the muscles between your left shoulder and base of the neck. As you squeeze, rotate the left shoulder in small circles. Repeat on the other side.

Click here for more tips on how to stress less from Family Circle.

More from Family Circle: How do you find freedom from the stress you face in life?





You will earn

5

SparkPoints

Like what you read? Learn more

about SparkPeople,

or

sign up

for your free account today!
Got a story idea? Give us a shout!