6 Times You Should Exercise (and 4 Times You Definitely Shouldn't)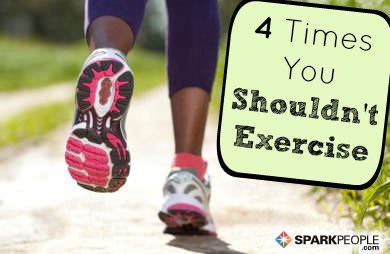 Could when you work out help you drop pounds, or even boost your overall health? "The best time to exercise boils down to what works for you consistently," says Jessica Matthews, an exercise physiologist and spokesperson for the American Council on Exercise. That said, there are times when exercising will keep you at your physical peak, improve your mental health and maximize your calorie burn. And there are other times that are best avoided, as they up your chances for illness or injury. Here's how to be sneakily strategic.

1. Exercise in the Late Afternoon

If you're looking for the sweet spot for exercise, science says to lace up your sneaks between 4 and 5 P.M., when your body temp is at its highest. Studies have shown that boosts your workout—your muscles are more flexible, your strength is at its peak and your perceived exertion is at a low (read: exercise feels easier). This doesn't mean you should quit lunchtime Zumba if that's what works for you, cautions Matthews. But next time you're considering upping the intensity with a boot camp class, schedule accordingly!


2. Exercise in the Morning

Good news for early risers: In a small study of patients at the Mollen Clinic in Scottsdale, AZ, 75% of morning exercisers stuck with their routines, as compared to only 25% of evening exercisers. Plus, "you start your day off with a high burn, and get your energy up and metabolism running," says Jenn Burke, Fitness Manager for Crunch Gyms in Los Angeles. To maximize your body's ability to burn fat in the A.M., Burke suggests a snack with a good protein-to-carb ratio—like a smoothie made with frozen fruit and Greek yogurt—as soon as you wake up.


3. Exercise with a Head Cold

Obviously, you shouldn't hit the gym if you're feeling like death. But when plagued only by above-the-neck symptoms—such as a sore throat or runny nose—moderate exercise might help, says Thomas G. Weidner, PhD, a professor at Ball State University. His research on exercise and the common cold has found that the mood-boosting chemicals released during exercise make symptoms feel less severe (though they don't actually improve). To avoid prolonging your cold, work out at about half your typical intensity, and consider at-home and outdoor exercises, so you don't spread germs to other gym-goers. Matthews suggests a restorative yoga DVD or a 20-minute walk followed by stretching.

Click here for more workout tips from Woman's Day.

More from Woman's Day:

What is your experience with exercise and what time of day is best for you?




You will earn

5

SparkPoints

Like what you read? Learn more

about SparkPeople,

or

sign up

for your free account today!
Got a story idea? Give us a shout!