6 Pre-Race Food & Fitness Blunders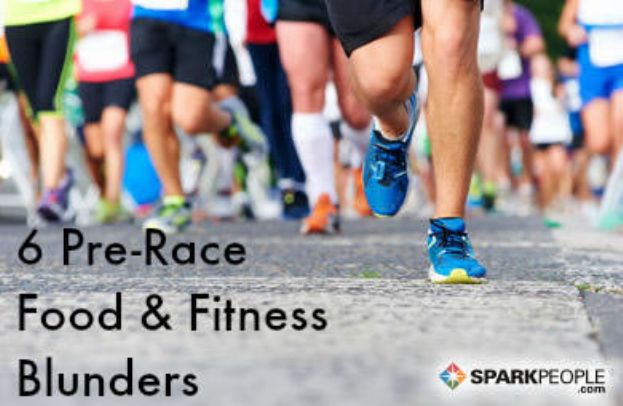 You have a race coming up—congratulations! Whether it's a 5K or a 50K, you have a lot to be proud of! To make sure your race goes off without a hitch, start here.

When it comes to race day, there are plethora of do's and don'ts to set yourself up for success. While there are a variety of expert opinions on how to approach a race, it ultimately comes down to figuring out what works for you—and trust me, I have had plenty of personal trials and errors from which anyone can learn. Here are some of the common nutrition and fitness mistakes even experienced runners make that can be detrimental during the race itself.

Food Blunder: "Pass the pasta, please!"
A lot of runners make the "pasta party" a ritual the night before every race believing that "carb loading" will give them more energy. But is this really necessary? In truth, eating too much (of anything) can stress your digestive systems and make you tired rather than energetic. A single portion of pasta is of course acceptable, but don't go nuts on noodles thinking that it's going to make you superman (or woman) come race day. Have a healthy balanced meal including carbohydrates, protein, vegetables and a little bit of good fat and you will be fueled just fine. A great idea would be quinoa pasta because it is packed with good carbs and plant-based protein, which is much easier for your body to digest and absorb the night before the big race.

Fitness Blunder: "I can't wait to try this out on race day!"
This I learned the hard way. The day before my first half marathon, I went to pick up my bib and visited the race expo hall. There were so many cool things and I ended up buying a belt with a small pouch, water bottles to go in it and a new headband to hold my hair back. I am definitely not opposed to these types of running accessories, but there was one problem with this picture: It was the day before the race. I had not trained with the water belt on or tried the headband before. Wearing both new items during my race completely irritated me and I seriously contemplated throwing them in the bushes during my route! Needless to say, I crossed the finish line with all of my new gear in my hands after taking it off and carrying it for miles. The lesson here is: If you didn't train with it, don't race with it! Of course expos are great, and there are some awesome running accessories worth trying. Just make sure you feel it out before you decide to go with it during your actual race. Had I ran one run with that belt on, I would have known that it definitely was not for me!

Food Blunder: "Food is the most important fuel."
Some people become so preoccupied with eating the best and most powerful super foods they need to eat to fuel their race that they completely forget about what (or how much) they are drinking. Many are not even mindful of their hydration level until after the finish line. Staying hydrated is very important to avoid seizures, especially during longer races like a half marathon, marathon or even ultra-marathons where liquid depletion happens at higher levels. Bottom line: Whether you are training for a race or not, make it a point to drink 8-12 cups of non-alcoholic beverages daily and you will be much happier with your performance. Oh, and don't forget to pee before the gun goes off!

Fitness Blunder: "The only way to become a better runner is to run."
Just because you are training to run a race does not mean that you should only be running. This can lead to overtraining and even injury. The best plan? Cross-training. Cross training is a training plan that encompasses many different types of training, but still benefits your top goal (running in this case). You can do yoga, weight training, plyometrics, core work and even other cardio to mix it up while improving your runs. Heck, do them all! Becoming better-rounded with your workouts will balance out your runs and improve your overall fitness level. Check out the best cross-training activities for runners.

Food Blunder: "I'm going to try this new energy bar before my race."
You wouldn't go for a drive without making sure there was fuel in the tank right? So you should think of your body the same way. Having breakfast should be an obvious must-do before you run a race! You also want to make sure that you are eating breakfast about 2-3 hours before you start your race to ensure that your digestive organs are not pre-occupied during the race. When choosing your breakfast come race day, keep it simple and don't suddenly try something new. Race day can be nerve racking but just because you are running a race doesn't mean that you need to seek power in the latest energy bar or racing gels. Stick to a breakfast that your body is used to eating and metabolizing and make sure that you chew properly to support digestion.

Fitness Blunder: "Don't these shoes look so cool?!"
Your feet are your foundation. They require support, stability and attention specific to your posture and running style. While there are many stylish athletic shoes available in great colors and trendy designs—aesthetics should not be at the forefront of your mind when purchasing running shoes. A lot of people chose their running shoes based on the newest, coolest, and trendiest on the market, but if everyone is unique, should we all wear the same shoes? With shorter distances (5K or 10K) you might be able to get away with wearing a basic running shoe, but should you choose to do longer distances you will be forced to pay more attention your feet. When I ran my first half marathon, I wore a shoe that I really liked and did really well in. My second half marathon was 6 months after recovering from a back injury, and so I required a much more supportive and stable shoe. If you want to run, act like it. Your body can only be a machine if it is well equipped and well oiled. If you have the means to get your running mechanics analyzed, I say it's an incredible investment. Here's what to look for when picking the best running shoe for you.

Are you guilty of these (or other) pre-race blunders? What's the worst mistake you made before a race?

About the Author

Lunden Souza is a certified personal trainer, writer and fitness coach at Runtastic, a world leader in mobile health and fitness.

She worked as an in-home personal trainer in Orange County, CA for 5 years and now currently resides in Austria where she provides weekly fitness, nutrition and wellness tips via the Runtastic Fitness Channel on YouTube.

She also has specializations in TRX suspension and Rip training, is a certified Tabata instructor and an enthusiastic Sweat Pink ambassador. Her hobbies include yoga, running, biking, hiking and Kajukenbo.









You will earn

5

SparkPoints

Like what you read? Learn more

about SparkPeople,

or

sign up

for your free account today!
Got a story idea? Give us a shout!