5 Will Win a Case of Clif Bars!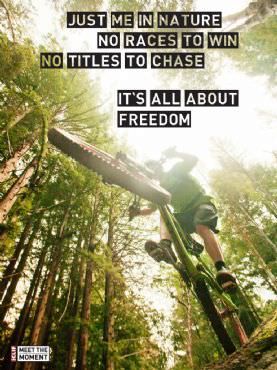 The contest is closed. The winners are: FIERCEBALANCE, CHUCKRABBI, GRAMMAALI, AVENS18, and NASFKAB!

We love CLIF bars, so when the company offered to give away a caddy containing 12 of the classic nutrition bar, we jumped at the chance. (Disclosure: They sent us a case of CLIF Crunch granola bars to try--yum! I love the Blueberry Crisp flavor.)

We're also psyched to tell you about their new project, called "Meet the Moment," which is cool way to share dreams and protect this Earth we all share.

They say:

CLIF BAR today introduced Meet the Moment, a celebration of athletic adventures and the places they happen. Whether it's action, adventure or the thrill of the chase, CLIF BAR wants people to share how they Meet the Moment by uploading inspiring photos and stories at www.MeettheMoment.com.

CLIF BAR will award three people who upload the most inspirational and creative Moments by July 31 an opportunity to pursue their dream adventure. Each winner will select the adventure of their choice (up to a maximum value of $12,000) - be it trekking the Amazon, chasing the Tour de France, riding a wave at J Bay, extreme boarding at Marmot or any other athletic adventure they've dreamed about.

To protect the places people play, CLIF BAR also will donate $5 to one of five non-profits dedicated to protecting outdoor places each time someone creates and uploads their first Moment. To further support these conservation and preservation efforts, CLIF BAR will double its contribution to each non-profit if people submit 10,000 Moments by July 31. All told, CLIF BAR, the nation's #1 energy bar, could contribute up to $125,000 to the five organizations.

The five non-profit beneficiaries that people can select from to direct a $5 CLIF BAR donation on their behalf – Leave No Trace, International Mountain Biking Association, Surfrider Foundation, Access Fund and Winter Wildlands Alliance – were chosen for their focus on protecting the places where people Meet the Moment and their dedication to ensuring that outdoor spaces will be preserved for future generations to experience their own Moments.

Meet the Moment will culminate Oct. 1 with CLIF BAR's first National Day of Action, an inspirational day of volunteer activities making a positive and lasting impact on the outdoor places and spaces where memorable Moments occur every day.

How to Post a Moment

Anyone is invited to upload a photo and share their Moment at www.MeettheMoment.com. The Moment can be described in "magnetic poetry style" by choosing from a bank of words that will be placed on top of the photo to create an individualized postcard. People can also opt to add their own words to their postcard.

Once the postcard is complete, it can be posted to a photo gallery on the site. The gallery is designed to serve as a visual community of people sharing athletic adventures and stories.

Once submitted, Moments will be plotted on four different "energy maps" that will track the location of like-minded individuals, the number of Moments dedicated by sport, the number of Moments assigned to each non-profit and the feelings Moments created. People also will be able to scroll over Moments in the Moment Gallery and on the energy maps to learn the story behind each postcard, with the goal of inspiring more Moments of outdoor adventure.

Be inspired to Meet the Moment by watching Team CLIF Bar athletes as they scale the chilly face of Smith Rock, ski the backcountry of Hoodoo, surf the swell at Garrapata Beach, mountain bike in the Santa Cruz redwoods, and more!

Check out the video here!

To enter, click here! Be sure to read the rules. This contest will end next Friday at 8 a.m.!

How will you "Meet the Moment"?



You will earn

5

SparkPoints

Like what you read? Learn more

about SparkPeople,

or

sign up

for your free account today!
Got a story idea? Give us a shout!