CONTEST CLOSED: 3 Recipes with Greek Yogurt, Plus a Giveaway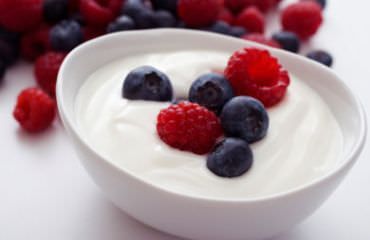 I love Greek yogurt! I've been eating it for years, after discovering it at Trader Joe's shortly after I started to pay attention to healthy eating. I love that it's now available in regular supermarkets, in several brands, sizes, and flavors. (I prefer plain 2%.)

Yoplait kindly sent us some recipes from a recent event, Yoplait Greek Nourish Your Inner Goddess Retreat. All of the recipes use Greek yogurt. (Keep reading beyond the recipes for a chance to try the Greek yogurt for yourself.)






Chicken Pasta Salad with Creamy Lemon Dressing



Prep Time: 30 Min

Start to Finish: 1 Hr 30 Min

Dressing

2 containers (6 ounce each) Yoplait® Greek Fat Free honey vanilla yogurt
1/2 cup milk
3 tablespoons fresh lemon juice
2 teaspoons poppy seed
1 teaspoon salt
1 teaspoon grated lemon peel

Salad
2 cups uncooked penne or rotini pasta
2 cups diced cooked chicken
2 cups baby spinach leaves
1 cup red seedless grapes, halved
1/2 cup thinly sliced celery
1/2 cup slivered almonds, toasted *


In small bowl, mix dressing ingredients using wire whisk until well blended. Cover; refrigerate until ready to use.


Cook and drain pasta as directed on package. Rinse with cold water; drain.


In large bowl, mix cooked pasta, chicken, spinach, grapes and celery. Stir dressing; pour over salad and toss gently to coat. Refrigerate at least one hour before serving. Stir in almonds, reserving 2 tablespoons for garnish, if desired.


6 servings (1 1/3 cups each)

1 Serving: Calories 360 (Calories from Fat 80); Total Fat 9g (Saturated Fat 1.5g, Trans Fat 0g); Cholesterol 45mg; Sodium 490mg; Total Carbohydrate 44g (Dietary Fiber 3g, Sugars 10g); Protein 26g

Technique * To toast almonds, cook in ungreased heavy skillet over medium-low heat 5 to 7 minutes, stirring frequently until browning begins, then stirring constantly until golden brown.






Fresh Dill Yogurt Dip




Prep Time: 20 Min

Start to Finish: 20 Min


2 containers (6 oz each) Yoplait® Greek Fat Free plain yogurt

2 tablespoons chopped fresh dill weed or 2 teaspoons dried dill weed

1/3 cup diced red bell pepper

1/4 cup thinly sliced green onions (4 medium)

1/2 teaspoon salt

1/8 teaspoon ground red pepper (cayenne)

1 small garlic clove, minced

2 tablespoons diced red bell pepper

1 cup ready-to-eat baby-cut carrots

2 cups broccoli florets

1 medium cucumber, thinly sliced (2 cups)




In medium bowl, mix yogurt, dill, red bell pepper, green onions, salt, red pepper and garlic until well blended. Garnish with additional diced red bell pepper, if desired.


Serve with carrots, broccoli and cucumber slices.
7 servings (1/4 cup each)

1 Serving: Calories 50 (Calories from Fat 0); Total Fat 0g (Saturated Fat 0g, Trans Fat 0g); Cholesterol 0mg; Sodium 220mg; Total Carbohydrate 8g (Dietary Fiber 1g, Sugars 5g); Protein 5g






Dark Chocolate Mousse



Prep Time: 15 Min
Start to Finish: 15 Min

1 1/2 cups skim milk

1/2 cup dark chocolate chips

1 box (4-serving size) chocolate instant pudding and pie filling mix

1 container (6 oz) Yoplait® Greek Fat Free honey vanilla yogurt

1 1/2 cups frozen (thawed) reduced-fat whipped topping

1 1/2 cups fresh raspberries




In small saucepan, combine 1/4 cup of the milk and the chocolate chips. Cook over low heat, stirring constantly, until chocolate is completely melted and mixture is well blended.


In medium bowl, combine remaining 1 1/4 cups milk and pudding mix. Beat with wire whisk for 1 to 2 minutes or until mixture is well blended and thickened; stir in yogurt.


Blend melted chocolate into pudding mixture; fold in whipped topping. Spoon into individual dessert dishes. Top each serving with additional whipped topping and raspberries. Serve immediately or refrigerate until serving time. Store covered in refrigerator.
6 servings (1/2 cup each)

1 Serving: Calories 250 (Calories from Fat 80); Total Fat 8g (Saturated Fat 6g, Trans Fat 0g); Cholesterol 0mg; Sodium 280mg; Total Carbohydrate 37g (Dietary Fiber 4g, Sugars 27g); Protein 6g

Enter to win one a coupon for one free container of Yoplait Greek yogurt. Click here to enter. The usual rules apply. You have from now until Thursday, Oct. 21, 2010, at 6 p.m. EST to enter.

Want to make your own yogurt? (It's easy! I do it all the time.) Click here to learn how.

How do you prefer to eat Greek yogurt?
Recipe photos from Yoplait.



You will earn

5

SparkPoints

Like what you read? Learn more

about SparkPeople,

or

sign up

for your free account today!
Got a story idea? Give us a shout!