35 Ways to Be Healthier This Year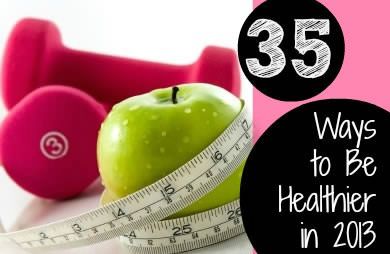 Do These Right Now

Tackle these to-do items just once in 2013 to boost your wellness.

1. Clock Your Sunblock

It's good for up to three years, but look at expiration dates and restock if necessary, says dermatologist Sonia Badreshia-Bansal, M.D., a clinical instructor at the University of California, San Francisco. If you're using sunblock properly, you should need a new bottle every year.

2. Create a Reading List

Jot down the books you'd like to finish in the next 12 months—from guilty pleasures to classics—then borrow, buy or download them. Tearing into a page-turner is good for your brain. People who regularly read fiction are more empathetic than those who don't, and reading any form of literature increases vocabulary and comprehension. See our must-read picks for 2013 at familycircle.com/2013books.

3. Check the Detectors

Change the batteries in your smoke and carbon monoxide detectors annually and test them monthly, says Greg Martin, a firefighter, engineer and EMT with Idaho's Ketchum Fire Department.

4. Book a Bra Fitting

Tense shoulders? Blame it on your bra. According to researchers, 85% of women wear the wrong size, which can lead to pain (and an unflattering silhouette). Weight fluctuations and other changes make an annual measurement, available in most department and lingerie stores, invaluable.

5. Chuck Old Sneakers

Regular workouts are great for you but not for your gym shoes. If you exercise three times a week, replace your pair after six to nine months, says Michele Olson, Ph.D., professor of exercise physiology at Auburn University at Montgomery. If five times a week, swap out after five months.

6. Revamp Your Beauty Regimen

What you put on your body can make its way into your body, so spend a day this year looking at the ingredients list of your favorite soaps, nail polishes and hair sprays. Products containing hormone-disrupting chemicals called phthalates may increase your risk of diabetes.

Click here for more health tips from Family Circle.

More from Family Circle:
What steps are you taking to be healthier in 2013?




You will earn

5

SparkPoints

Like what you read? Learn more

about SparkPeople,

or

sign up

for your free account today!
Got a story idea? Give us a shout!