35 Girl Power Anthems to Energize Your Next Workout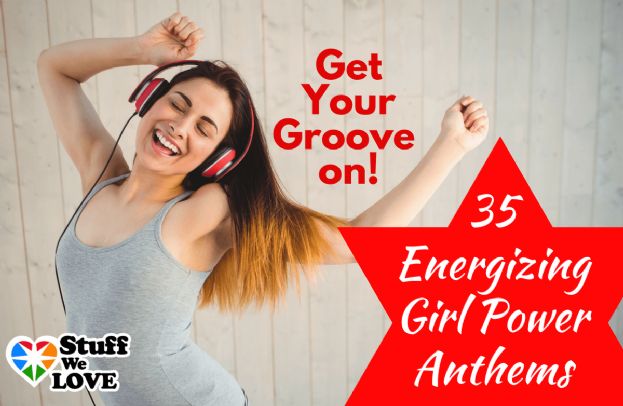 Girls just want to have fun—and get fit! We all know that amazing feeling of euphoria and accomplishment that comes after a workout, and how much the body and mind benefit from a heart-pounding sweat session. But when you're feeling tired, burned out or just plain uninspired, the memory of the last time you killed it at the gym may not be quite enough to motivate you to get off the couch and get moving.

When you can't talk yourself into a workout, try singing instead. For centuries, people have been using music as mental fuel for exercise. Research shows that an up-tempo beat not only makes exercise more enjoyable, but can also enhance performance. If your aim is to get more out of your gym session—or simply muster the motivation to clean out the garage—try getting your groove on.

You don't have to be on the heels of a nasty breakup to appreciate a fun, feisty (albeit somewhat angry) "girl power" anthem. We polled some music fans for their favorite sweat-inducing, heart-pumping feminist tracks. Turns out, as women we don't simply roar—we run, walk, lift and otherwise kick butt.

1. Ariana Grande, Problem – Amazon iTunes
2. Beyonce, Run the World (Girls) – Amazon iTunes




3. Beyonce, Single Ladies – Amazon iTunes
4. Britney Spears, Stronger – Amazon iTunes
5. Carl Carlton, She's a Bad Mama Jama – Amazon iTunes
6. Chaka Khan, I'm Every Woman – Amazon iTunes




7. Cher, Believe – Amazon iTunes
8. Christina Aguilera, Fighter – Amazon iTunes
9. Christina Aguilea and Various Artists, Lady Marmalade – Amazon iTunes
10. Crystal Waters, 100% Pure Love – Amazon iTunes
11. Cyndi Lauper, Girls Just Want to Have Fun – Amazon iTunes




12. Des'Ree, You Gotta Be – Amazon iTunes
13. Destiny's Child, Independent Woman – Amazon iTunes
14. Destiny's Child, Survivor – Amazon iTunes
15. Dixie Chicks, Wide Open Spaces – Amazon iTunes




16. Ellie Goulding, Burn – Amazon iTunes
17. Fifth Harmony, That's My Girl – Amazon iTunes
18. Florence + the Machine, Dog Days Are Over – Amazon iTunes
19. Garbage, Only Happy When It Rains – Amazon iTunes
20. Gloria Gaynor, I Will Survive – Amazon iTunes
21. Gwen Stefani, Hollaback Girl – Amazon iTunes
22. Katy Perry, Roar – Amazon iTunes




23. Katy Perry, Firework – Amazon iTunes
24. Kelly Clarkson, Stronger (What Doesn't Kill You) – Amazon iTunes
25. Kelly Clarkson, Invincible – Amazon iTunes
26. Madonna, Express Yourself – Amazon iTunes
27. Mandisa, Overcomer – Amazon iTunes
28. Marina and the Diamonds, How to Be a Heartbreaker – Amazon iTunes
29. Missy Elliott, Get Ur Freak On – Amazon iTunes
30. P!nk, Just Like a Pill – Amazon iTunes




31. Rachel Platten, Fight Song – Amazon iTunes
32. Robyn, Dancing on My Own – Amazon iTunes
33. Selena Gomez, Like a Champion – Amazon iTunes
34. Sheryl Crow, Soak up the Sun – Amazon iTunes




35. Sia, The Greatest – Amazon iTunes

Which of these girl power anthems are destined for your workout playlist? Would you add any others to the list?

We hope you love these products as much as we do! SparkPeople may collect a small percentage of revenue from the links on this page.




You will earn

5

SparkPoints

Like what you read? Learn more

about SparkPeople,

or

sign up

for your free account today!
Got a story idea? Give us a shout!