13 Healthy Foods to Try in 2013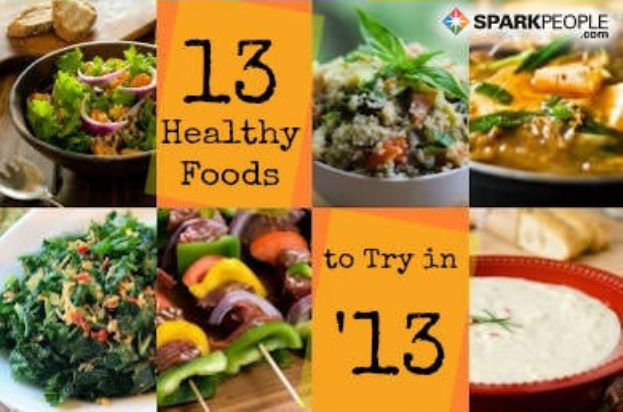 Did you resolve to cook more in 2013? Want to branch out from your favorite healthy foods? Here are my top 13 healthy foods you have to try in 2013! Some of these foods will be completelyt new to you; others will simply be new uses for old favorites.






Bison
Traditionally grazing animals on grass brings on the flavor but leaves the fat back on the farm. Swap out ground bison for any recipe calling for ground turkey or beef. According to the USDA, a comparison of bison to 90% lean ground beef awards the medal to bison. A 3.5 ounce serving of bison contains 146 calories and 7 grams of fat, while the beef arrives at the table with 176 calories and 10 grams of fat.
Bison Bolognese
Greek Turkey Burger
Ground Beef-Potato Casserole
Keema (Ground Beef Casserole)
Salsa Turkey Burgers
Turkey Chili with Corn and Black Beans
Vegetable Beef Soup


Buckwheat
These gluten-free triangular-shaped grains (called groats) are perfect toasted and tossed in cold or warm cereals or added to soups. Learn more about this versatile grain with a distinct taste.
Buckwheat Crepes
buckwheat and sesame flat bread
Roasted Buckwheat Breakfast Cereal

Cauliflower
Shredded or smashed it's an incredibly versatile addition to any recipe. Use a paring knife to remove the core, and then break the head into florets. You can also place the cauliflower in a large resealable bag and use the heel of your hand to smash it.
Roast at 425 degrees F for 15 minutes with plenty of lemon juice and zest, a drizzle of oil and plenty of pepper.
Buffalo Chicken Mac n Cheese
Cauliflower "Mashed Potatoes"
Cauliflower, Pasta, and Cheese Gratin
Cauliflower Soup
Cauliflower Sushi "Rice" Salad
Samantha's Creamy Cauliflower Soup
You Won't Believe It's Cauliflower Pizza Crust


Chickpeas (Garbanzo Beans)
Beyond hummus, chickpeas (also called ceci beans or garbanzo beans) are a versatile legume. Purchase dried or canned, but if you buy them canned, drain and rinse them to remove up to 40% of the sodium. Toss them in salads, soups, and stews. Use in place of ground meat in tacos. Or, mash them up and use to thicken soups and stews. You can also find chickpea flour, which is used in gluten-free baking, and it makes delightful savory flatbreads, called Socca.
Chickpeas and Shells
Cholay (Curried Chickpeas)
Garbanzo Bean Chocolate Cake (Gluten Free!)
Garbanzo Tomato Pasta Soup
Greek Chickpeas and Spinach
Moroccan-Style Chickpeas
Roasted Chickpeas (Garbanzo Beans)


Fresh Chili Peppers
Chili peppers bring a wide range of heat to the table, so pick your level. They are perfect as a salt replacement and flavor booster in foods.
Charred Corn and Poblano Tostadas
Cheesy Grilled Banana Peppers
Chile Relleno, Cream Cheese &Turkey Stuffed Poblano Peppers
Deconstructed Chicken Fajitas
Easy Baked Stuffed Jalapeno Peppers
Jalapeno Boats
Macaroni & Cheese with Chipotle Chile Peppers

Fresh-Picked Berries
This summer, pick a day, pick a place, then pick some berries! Pick enough to enjoy fresh and frozen for the winter months, usually at a fraction of the cost. (Learn how to save them for the off season.)
Better Berry Muffins
Blueberry Flax Seed Muffins
Light Lemon Blueberry Donuts
Slow Cooker Strawberry-Rhubarb Conserve
Spinach-Berry Salad
Strawberry Cheesecake Shake
Strawberry Pancakes
Very Berry Smoothie
Watermelon Blueberry Banana Split

Grapes
Don't think of grapes just as a snack; make into an appetizer. Sauté 1 pound of sliced seedless grapes in 1 teaspoon olive oil for 5 minutes. Toss in 1 tablespoon chopped thyme and serve with warmed low fat cream cheese and toasted whole wheat baguette slices.
Baked Anchovy Grape Crostini
Chicken Salad with Grapes and Pecans
Quinoa Salad with Chicken, Grapes and Almonds
Roasted Grapes
Warm Lentil Salad with Grapes, Feta and Mint


Kale
This power packed vegetable is everywhere these days. If possible, buy local or grow it in your garden--it gets sweeter after the weather turns cold. Look for smaller bunches with bright leaves. Store in the coldest part of your refrigerator in a produce bag. Wash just before use. Fold leaves over stems and remove stems before cooking. (Reserve stems for juicing or throw in your compost!) Shred the leaves and sauté with onions or garlic and a bit of olive oil, or let raw leaves marinate in an acidic dressing for a salad.
Chickpea, Kale & Butternut Squash Curry Soup
Crispy Garlic Kale with Chorizo and Beans
Massaged Kale Salad
Roasted Kale Chips
White Beans with Caramelized Onions and Kale


Lean Pork
You might be surprised to know that pork surpassed chicken as the most-searched term on SparkRecipes.com in 2012. From pork chops to pork tenderloin, the "other white meat" is popping up on dinner tables more often.
Last year we ate our way from the hoof to the tail of Mr. Piggy, but 2013 leaves the fatty bacon behind. Select pork tenderloin for a quick and easy dinner or lean Canadian bacon as a flavor enhancer for egg dishes, sandwiches, and appetizers.
Cocoa Crusted Pork Tenderloin
Honey Garlic Pork Chops
Slow Cooker Pork with Greens and Beans
Super Fast Pork and Veggie Stir Fry


Miso Paste
You will love the savory taste of miso paste with citrus on salmon, with garlic and ginger in a perfect poultry marinade, or stirred into your favorite broth-based soup for depth and richness. Compare labels since this fermented soybean paste can be high in sodium. A little goes a long way.
Avocado Miso & Tomato Sandwich
Chicken with Miso & Broccoli
Creamy raw miso dip or dressing
Orange Miso Grilled Salmon
Mighty Miso Soup
Miso-Crusted Salmon
Miso Ginger Chicken
Super Miso Soup.


Multi-Grain Pizza Dough
Start by incorporating whole grains into your traditional pizza dough, then move on to more fiber-rich varieties. Check out "The SparkPeople Cookbook: Love Your Food, Lose the Weight" for two great multi-grain pizza dough recipes. You can also try my Easy Whole Wheat Flatbread as pizza dough.


New-to-You "Ancient" Whole Grains
Look for barley, bulgur, quinoa, and wheat berries to add some nuttiness to your whole-grain side dishes. Bulgur is my top choice since you really don't even have to cook it. Reconstitute the grain by soaking in hot water spritzed with lemon juice for 20 minutes.
Barley and Spring Greens
Beef & Barley Soup
Bulgur with Apples, Currants and Toasted Pecans
Herbed Bulgur and Lentil Salad
Quinoa-Black Bean Casserole
Quinoa and Vegetables
Quinoa with Spinach and Feta Cheese
Wheat Berries and Veggies


Two-for-One Veggies (Stem to Root Veggies)
Reach for root vegetables with the stem still intact. Separate the bulb from the stem then get creative on how you can utilize both. Roast turnip bulbs along with fennel and parsnips then garnish the dishes with fennel fronds (the lacy top parts). Sauté turnip or beet greens along with sliced shallots for a side dish. Or toss radish greens into salads.
Beet and Wheat berry Salad with Beet Greens
Beet Greens with Pine Nuts
Fennel and Radish Salad
Garlicky chicken w/carrots & parsnips
Scrambled Eggs with Beet Greens and Onions
Sweet Potato Fennel Chunky Soup


Which of these foods have you tried already? Which will you try this year?
Want more healthy recipes from me and fellow SparkPeople members? Be sure to subscribe to SparkPeople's Recipe of the Day email.
Click here to sign up
!
Did you know SparkRecipes is now on Facebook?
Click here to "Like" us
!
Like this blog? Then you'll love "
The SparkPeople Cookbook: Love Your Food, Lose the Weight
."



You will earn

5

SparkPoints

Like what you read? Learn more

about SparkPeople,

or

sign up

for your free account today!
Got a story idea? Give us a shout!