10 Ways to Eat Pumpkin (That Aren't Pie)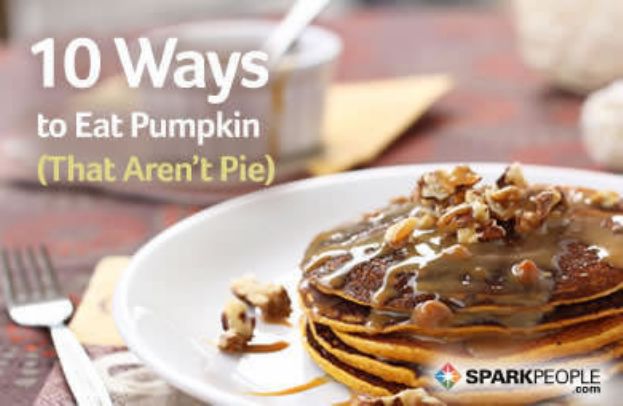 Whipped cream-laden Thanksgiving pie notwithstanding, pumpkin has a healthy nutritional profile, with more than 200% of our RDA of Vitamin A, plus about one-third of our daily Vitamin C and nearly one-quarter of our fiber requirements. And it has just 40 calories per serving. (Without that whipped cream, of course.)

Canned pumpkin is widely available in grocery stores during the fall/winter holiday season. (Note: Be sure to grab plain pumpkin puree, not pumpkin pie mix in a can, which includes sweeteners, spices and other ingredients to make a pie.) One can of pumpkin contains about 1 3/4 cup. Some canned pumpkin can have a slightly bitter taste, so it's best suited for sweet recipes. For pumpkin-based dips or sauces, try making your own pumpkin puree; it's super easy.

Homemade Pumpkin Puree
Choose a small (8 to 12 inches across) pumpkin. Cut off the top, halve, scoop out seeds (see below), cut into quarters or sixths, and roast at 350 degrees for 75 to 90 minutes. Cool, peel and then puree the flesh in a food processor or blender. An 8-inch diameter pumpkin = 2 cups puree. (Pureed butternut squash is a fine substitute for pureed fresh pumpkin.)

Toasted Pumpkin Seeds
Tease the seeds out of the pumpkin innards with your fingers and rinse them in a colander. Boil the seeds in a pot of well-salted water 1o minutes; drain, spread on baking sheet, toss with 1 tsp. olive oil and bake at 400 degrees for 20 minutes or until the seeds are toasty brown.

Pumpkin Pie Smoothie
In a blender, combine 1/2 cup ice, 1/2 cup vanilla nonfat yogurt, 1 tsp. honey, 1/4 tsp. pumpkin pie spice and 1/4 cup pumpkin puree (add half a banana if you'd like). Puree until icy and smooth. Tastes like pie. (101 calories, 0 g fat)

Pumpkin Pasta Sauce
In a large nonstick skillet, sauté several cloves of garlic and half an onion, diced. Add 1 1/2 to 2 cups pumpkin puree and stir to combine; add vegetable stock if needed to thin the sauce a bit. Add minced fresh sage or rosemary and serve over whole-wheat penne pasta.


Chef Meg's Pumpkin Dip
This recipe rides the line between sweet and savory; it's as delicious on a whole-grain bagel for breakfast, or with carrot sticks for a beta carotene-packed afternoon snack.

Pumpkin Cream Cheese Spread
Add 1/2 cup canned pumpkin, 2 Tbsp. sugar (or sugar substitute to taste) and 1/2 tsp. pumpkin pie spice to 8 ounces of low-fat cream cheese.

Easy Pumpkin Ice Cream
Simply add 1 cup canned or fresh pumpkin puree and 1 tsp. pumpkin pie spice to your favorite vanilla ice cream recipe; freeze according to your ice cream maker's instructions.

Pumpkin Bruschetta Appetizers
Rub toasted bread rounds with a whole garlic clove to season; top with 2 tsp. pumpkin puree and 1/2 tsp. bleu cheese; broil for about 1 minute to melt the cheese. Top with toasted pumpkin seeds and coarse sea salt.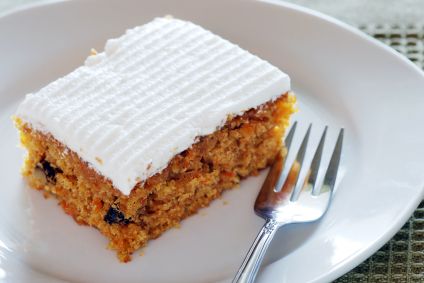 Carrot-Pumpkin Bars
This mashup between carrot cake and pumpkin bread is fairly low in fat and has a sweet frosting of light cream cheese and skim milk.

Low-Fat Whole-Grain Pumpkin Pancakes
Perfect for cooler months, this hearty breakfast recipe includes whole-wheat flour, lots of spice, canned pumpkin and skim milk. Whip up a batch of these pancakes for the weekend after Thanksgiving.

Do you prefer to eat pumpkin in savory or sweet recipes?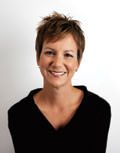 Bryn Mooth is extending her 20-year career in publishing as an independent journalist and copywriter. She shares seasonal recipes, kitchen techniques, healthy eating tips and food wisdom on her blog writes4food.com.









You will earn

5

SparkPoints

Like what you read? Learn more

about SparkPeople,

or

sign up

for your free account today!
Got a story idea? Give us a shout!