10 Trainer Tips That Will Transform Your Body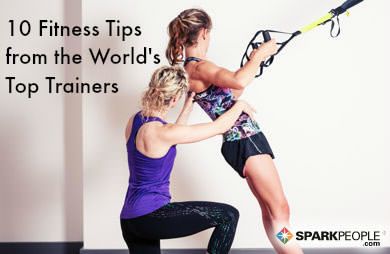 In 2011, I was both shocked and honored to be named America's Top Personal Trainer to Watch in the first-ever contest of its kind, which was run by Life Fitness and the American Council on Exercise, and I have continued to be involved as a judge and consultant for the contest in recent years. It has expanded outside of America to search for and name the best trainers across the globe. A few weeks ago, Life Fitness crowned 2014's top personal trainers to watch and a new winner in yet another amazing competition.

I recent caught up with the top 10 finalists (and the winner himself)—the crème de la crème of fitness pros—to share their best exercise tips with you! From time-saving exercise techniques to the best workout you can do when you're short on time, these must-read ideas are like consulting with the most inspiring and credible fitness trainers around the world without leaving home.

On Making Morning Exercise a Habit

"First, be sure to get enough sleep (at least seven hours) and wake up an hour before you plan to start exercising. Eating a good breakfast is important, too, as well as picking an exercise activity that is revitalizing and not stressful or grueling. For beginners, I advise walking or running at a constant and rapid pace, approximately 30 minutes a day. For an added challenge, alternate running, biking or swimming during different days a week." – Isaac Rojas Rivero, 2014 Personal Trainers to Watch finalist.

On Staying Motivated to Stick to an Exercise Program Long-Term

"Understanding the way our body works internally, in a very deep way, is something I've found motivates and keeps people working out long term. With this knowledge, people will start doing it, and will feel the need to keep doing it. To become a consistently active person, study your body." – Cristiano Arthur S. Parente, 2014 Personal Trainers to Watch winner.

On the Muscle Group Too Many People Ignore

"Everyone ignores the back! It is one of the biggest muscle groups in the human body. People tend to forget about this part of the body because they can't see it in the mirror and if it is out of sight it is usually out of mind. When you pay attention to developing your back your strength, posture and overall functionality will improve. Don't ignore back day!" – Austin Toloza, 2014 Personal Trainers to Watch finalist.

On How to Get Back on the Fitness Wagon

"A quick and easy way to get someone motivated after a long absence from the gym is to start with a smaller goal. Most people can handle devoting just 20 minutes to fitness to start out and then from there can start adding more. This could be logging their food, intervals of cardiovascular, strength, or abdominal exercises. Twenty minutes is realistic for anyone and will give people the push they need to get back in the game!" Andreya Tornes, 2014 Personal Trainers to Watch finalist.

On Squeezing More Exercise into a Busy Day

"First rule: prioritize. Prepare your clothes, gym bag, etc. the night before. Second rule: Make your life easier. Find a gym as close as possible to your house/work. Third rule: Training must be compatible with the rest of your life; sometimes less is more." – Adrián Cardín Pereda, 2014 Personal Trainers to Watch finalist.


On Choosing a Personal Trainer

"When picking a personal trainer, first and foremost you should determine if their passion and knowledge will support you in reaching your goals. As well as having the appropriate credentials, it's important that a trainer utilizes motivational techniques and can connect empathetically with your fitness and lifestyle, putting themselves in your shoes. Treat the first consultation like an interview: Look them in the eye and make sure they not only have a high level of physical training knowledge, but a true desire to help you optimize your health and performance." – Rachel Hobbs, 2014 Personal Trainers to Watch finalist.

On the Single Best Exercise for Time-Pressed Individuals

"I recommend the kettlebell swing. It allows you to do cardiovascular and weight training in one exercise, helps to protect your body against injuries, hits most of your muscle groups and gets your heart rate soaring. A kettlebell swing is a perfect choice of exercise for Tabata or HIIT training. This very short but intense style of training burns up to three times more calories than any traditional cardio workout." – Nick Freemantle, 2014 Personal Trainers to Watch finalist.

On the Best Exercise for Weight Loss

"I recommend total body interval training at an intensity level that is appropriate for the individual's experience level. Pick a few of your favorite multi-joint exercises utilizing large muscle groups (running, squatting, bench pressing, etc.) because this will require the most energy to perform and elicit the greatest hormonal response possible. Progression from light weight or moderate speed to moderate weight and high speed coupled with variations in work: Rest ratio (1:5, 1:3, 1:2) will ensure enough variation for long term progress in fat loss." – Matt Parvis, 2014 Personal Trainers to Watch finalist.

On What's Missing from Your Strength Training Routine

"Recovery. If you are lifting weights, be sure to give your muscles a break. Strength training causes microscopic tears in muscle tissue. These tears are normal and are necessary for muscle growth, but try to give your muscles 48 hours of recovery before your next strength training session." – Ryan Vivar, 2014 Personal Trainers to Watch finalist.


On How Parents Can Commit to Exercising

"If you are a new parent then walking with the stroller is a perfect way to restart the fitness regime while taking care of baby. Parents with slightly older children can get to the park for sports, such as soccer, which the whole family can do. Make sure you are doing most of the running around! Add a few pull-ups on the goal posts or playground for a bonus! Both kids and parents benefit from time together and great for kids to see parents getting sweaty!" – Fiona Ross, 2014 Personal Trainers to Watch finalist.

Congratulations to all the finalists in this year's competition!
Great tips! What was the best fitness tip you ever heard or read? Share it in the comments below!



You will earn

5

SparkPoints

Like what you read? Learn more

about SparkPeople,

or

sign up

for your free account today!
Got a story idea? Give us a shout!