10 Functional & Flattering Black Leggings You Can Buy on Amazon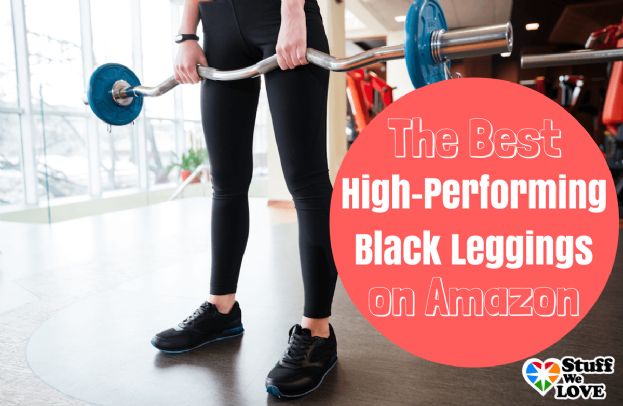 The black legging is to exercise as the little black dress is to wedding season: an essential wardrobe staple. Tall, short, small or large, the black legging is flattering on practically every body shape and it's functional to boot. With a lot of stretch in the fabric, cuts and seams that accentuate your curves and muscles, lengths that keep you warm or comfortable depending on the season and the ability to seamlessly transition from gym to grocery, the black legging boasts endless reasons why it's is an absolute must no matter what your training schedule requires.

Whether you opt to own eight pairs of the same reliable brand and cut, or you prefer branching out to include several different options, Amazon is an unexpected hidden mecca for all your black legging needs. From well-known brands to budget styles, charcoal black to those with a little pop of color, if you have legs, Amazon has the activewear staple of your dreams.

1. 90 Degree by Reflex Power Flex Yoga Pants ($19.99)




Photo courtesy of Amazon.

With more than 4,200 reviews and a cumulative 4.5-star rating, these basic black leggings are the best selling option on Amazon and for good reason. The manufacturer promises a perfect contour for any body, allowing you to bend, flex, squat and stretch your way to success.

2. Spalding Boot-Leg Yoga Pant ($19.99)




Photo courtesy of Amazon.

If the skintight look isn't your thing, nearly 3,000 people have given these flattering boot-leg options their stamp of approval.

3. Champion Absolute Workout Capri ($24.99)




Photo courtesy of Amazon.

This mid-length option is ideal for sunny-but-cool days running by the river, around the block or on the track. Champion's Power Flex stretch means your leggings won't ever hold you back from a full range of movement.

4. Neonysweets Workout Tights ($15.99)




Photo courtesy of Amazon.

If you're looking for a touch of color in your workout wardrobe, but prints and neon pink aren't your cup of tea, it's time to try these subtle leggings on for size. The colorful red, yellow, green and blue stitching pops on the black background of this stretchy, high-waisted option.

5. YogaReflex Plus-Size Active Pants ($29.99)




Photo courtesy of Amazon.

At the start of your fitness journey, you're going to want leggings that make you feel strong, comfortable and ready to take on whatever sweaty situation lies ahead. These plus-size leggings are ready to meet whatever challenge you throw their way.

6. Baleaf Yoga Capri Legging ($14.99)




Photo courtesy of Amazon.

For beginners looking for an entry to leggings, these basic black capris hit all the musts: affordable, moisture-wicking, breathable and comfortable. Start here and you can build your collection as you build muscle.

7. Under Armour ColdGear Infrared Tactical ($54.99, price varies)




Photo courtesy of Amazon.

Yes, even the bigger name brands can be at your door in record time thanks to Amazon. This athlete-favorite brand's long legging is a must for the winter months if your training plan includes braving the cold outdoors. Its dual-layer ColdGear fabric is both fast-trying and will absorb and retain your body heat throughout your workout so you won't suffer from a case of freezing cold kneecaps at mile two.

8. Velocity Full-Length Yoga Pants ($12.99)




Photo courtesy of Amazon.

When you're a basic black kind of gal, but also feel an aggressive need to express yourself, turn to these leggings featuring a fun, but approachable print. Consider the black-and-white brushstroke pattern to be your middle ground between solid black and outrageous floral prints. The seamless balance for your creative, but perfectly muted yoga practice.

9. Matymats Yoga Pants ($26.89, price varies by style)




Photo courtesy of Amazon.

You've seen the mesh trend on practically everyone in your Barre class, but you're not sure if you're ready to dive in headfirst just yet. Dip your toe in the trend with these black leggings with a small see-through side. With just a pop of skin at the back of the knees and along your thigh, you can embrace modesty and a little edge at the same time.

10. Oalka Power Flex Yoga Pants (17.99)




Photo courtesy of Amazon.

Commenters say this solid black option passes the test for the number one most common leggings complaint: see-through stretch. No matter if you're dropping a squat or perfecting your Warrior pose, you'll have no worries about anyone getting a peek at the skin beneath.

What are your must-have black leggings? Tell us in the comments!

We hope you love these products as much as we do! SparkPeople may collect a small percentage of

revenue

from the links on this page.






You will earn

5

SparkPoints

Like what you read? Learn more

about SparkPeople,

or

sign up

for your free account today!
Got a story idea? Give us a shout!