10 Reasons to Spend Your Food Dollars at a Farmers Market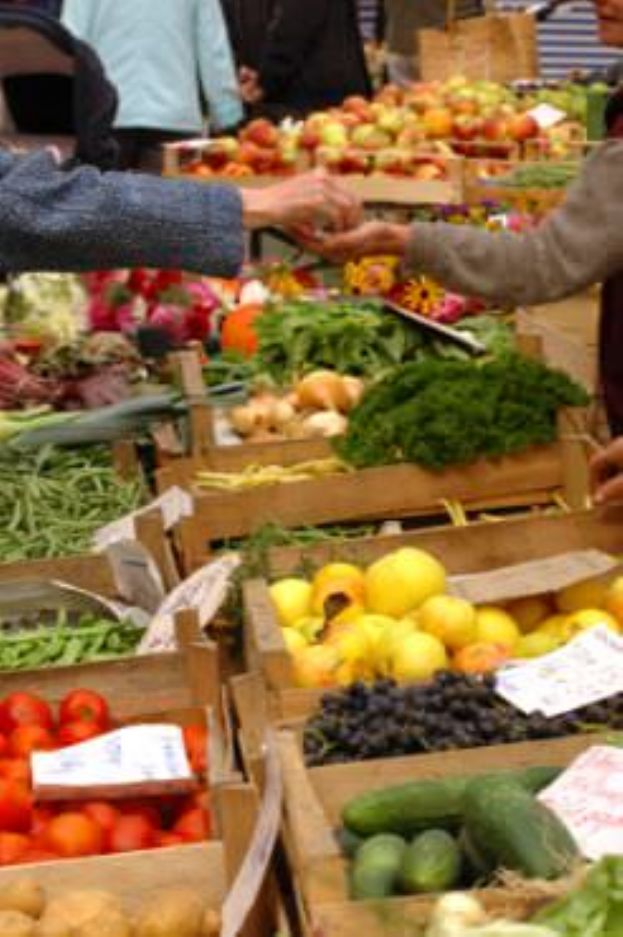 This dailySpark guest blog post was written by a SparkPeople member whose healthy lifestyle is fueled by fresh food from her local farmers markets. Here, she shares tips on eating at a farmers market.

By Christina Certo (BANANAFISH711)

Embracing the bounty of the summer harvest season is a great way to help turn your weight-loss journey into a permanent healthy lifestyle. One excellent way to do this is by seeking out local farmers markets and roadside farm stands in your area.

Here are 10 reasons to buy produce from your local farmers market this season:

1. Connect with the community.

Visiting the local farmers market is a great way to explore the culture of your community. What vegetables or fruits are exceptionally well-adapted to the climate of your area? What types of animals are raised for food? Talking to the farmers can help you learn more about where you live and help give you a better understanding of how to choose the best products. It can also give you ideas as to what might grow well in your own garden at home.

2. Support family farmers.

A large portion of small family farms are in danger of shutting down due to competition from commercial agriculture. Many of these farms focus their efforts on sustainable practices, that is, farming methods that replenish nutrients in the soil naturally. Because of this, their yields are smaller but provide quality, nutrient-rich products that equal or exceed supermarket produce. Supporting local farmers means that profits stay in your community, thus helping other businesses in your area.

3. Be nice to the earth.

Take a look at the label or sticker next time you pick out some produce at the grocery store. Where is your food coming from? Florida? Chile? Transporting produce over hundreds, sometimes thousands of miles not only costs a great deal of money, but uses an extreme amount of fuel and other resources. Eating food grown closer to home, when possible, helps you lessen your carbon footprint.

4. Have good taste.

Taste! Suppose you buy some delicious looking (and oddly enormous) strawberries at your local grocery store. When you look at the label, you'll most likely find that they've been shipped from California (which is fine, if you're not on the other side of the country like I am!). Now consider just how early in their ripening period those strawberries had to be picked in order to make it all the way from California to your supermarket without rotting. Chances are, when you bite into a strawberry from the grocery store, you'll see a lot of white on the inside. It never had a chance to finish ripening and you'll never get a chance to experience its full delicious flavor. The strawberries at the farmers market were picked that morning or the previous day, meaning their flavor was allowed to ripen until the last possible moment before you ate it.

5. Get your vitamins from food.

The debate rages on as to whether vitamin supplements are as effective as the vitamins we get from our food, but fortunately you can worry a little bit less if you follow a simple rule: Buy what's in season and buy it local. Nature purposely gives us signs like the bright red hue and alluring scent of a tomato to cue us that it is suitable for harvest. Eating a rainbow of produce will help you get a variety of vitamins and minerals, and experts agree that food is the No. 1 source of vitamins. (For more info on choosing a multivitamin supplement, read Dietitian Becky's informative article.

6. Expand your culinary horizons.

On more than one occasion, I've found myself poring over the vast array of greens at the local farmers market only to wonder, "Now what is THAT?" Not only does shopping at a farmers market provide an opportunity to start a dialogue with the producer about what it is and how to prepare it, it gives you and your family a chance to try something new (and maybe discover a new favorite)!

7. Spend time with your family.

Getting kids involved in the kitchen is one of the most successful ways to get them started early with healthy eating habits. Purchasing a variety of different, colorful produce together as a family is even better. Kids are far more likely to eat something that they've had a hand in choosing and preparing, especially if it's a dreaded green vegetable. Letting a child see and select a bunch of carrots as they actually appear in nature, (with their long, vibrant green fronds and not whittled into "baby carrots") is also a wonderful way to teach them more about how food is grown and harvested.

8. Stretch your dollar.

It is really tempting to buy the value pack of chicken breasts on sale at the local supermarket for $2.99 a pound, but you might consider buying a whole chicken from a local farmer. The price per pound may be higher, but it can go a long way if you plan and prepare meals. For example, you might break down the chicken into parts, grill or broil them with your favorite herbs and spices, and then take a serving of the meat and some vegetables for lunch at work each day during the week. Or, roast the whole thing for dinner, and then use the leftover meat to make chicken salad and the leftover bones (along with other discards like the tops of carrots or excess herbs) to make chicken stock. Many people say that organic, cage-free meat tastes better, and if you want to eat "happy chickens," local is often the way to go.

9. Know your farmer, know your food.

The best way to find out what fruits and vegetables are in season is to ask farmers what their planned harvest schedules look like. Many farms put this information online, and it can be a really helpful in planning a food budget. Don't be afraid to ask questions. Reputable producers will be proud of their food and eager to tell their customers about their farming practices. Some will even invite you to visit the farm and check it out for yourself, which can be a really fun day trip.


10. Sneak in some exercise!

Heading out for a morning at the farmers market is a perfect way to start the day--with fresh air and exercise. Bring a few reusable shopping bags or a basket to carry your purchases and get your muscles moving! If you can walk to your local market, even better, but if you do drive, park a little bit away from it and carry those groceries a few extra steps. You'll feel great not only for supporting your local economy and buying fresh produce, but you'll burn away some calories, too!

If you can't find a farmers market in your area, don't sweat it. You can still find locally produced products in many supermarkets. Some farms also offer Community Supported Agriculture (CSA) programs and will deliver bags of in-season vegetables, fruits, honey, and sometimes grains and eggs to drop-off locations in the general area for a weekly or seasonal fee. If you don't mind a drive to the country, some farms also hold "pick your own" seasons where customers can pick and buy their produce at the farm directly (another great activity if you have kids).
A list of these, along with some great ways to use your purchases can be found at www.pickyourown.org. To find CSA programs and farmers markets in your area, simply type "community supported agriculture and your city" into SparkPeople's web search. You may also visit www.foodroutes.org and www.localharvest.org for listings. If you're still having trouble, contact your state's board of agriculture and tell them that you are interested in supporting local agriculture. They are generally happy to help you find reliable producers in your area.
(If you're interested in growing your own fruits and vegetables, be sure to check out SparkPeople's comprehensive Backyard Gardening guide!)

Stay fresh and stay local!


Christina Certo, a SparkPeople member since 2008, has lost more than 100 pounds and kept it off since starting her healthy living journey more than five years ago.
Do you shop at a farmers market? Why or why not? Which of these reasons is the most compelling to you?
Do you have an inspirational story you think we should include on the dailySpark? Do you have any essays on healthy living or stories about weight loss? Send them to editor@dailyspark.com. Include the subject line: From the Mouths of Members



You will earn

5

SparkPoints

Like what you read? Learn more

about SparkPeople,

or

sign up

for your free account today!
Got a story idea? Give us a shout!