10 Kitchen Tools That Help You Prep Like a Pro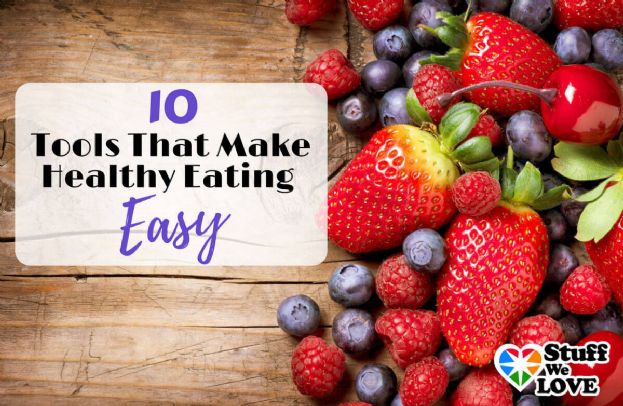 By now you probably have a good idea which foods you should eat, which to skip and a general idea of the ideal portion size for maintaining a healthy lifestyle and weight. Unfortunately, a lot of healthy foods spoil quickly or need special treatment when cooking or storing, and a lot of serving sizes are elusive. Is a serving of poultry the size of a deck of cards? A billiard ball? How much is a pinch? What do those measurements really mean, anyway?

Luckily, there are products available that take the guesswork out of portion control and can help keep your food flavorful, fresh, perfectly portioned and prepped for when you need it, saving you time, money and maybe even a few inches off your waistline.

Take the Guesswork Out of Food Measurement



Photo courtesy of Amazon.com

Food Scale, $10.88

Let's start with the obvious leader in food portion control. Although rather boring, there is nothing like the food scale when you want an accurate measurement of how much you're eating. With this portion-control dream-come-true, you'll never have to guess at a two-to-three-ounce size of meat again. Food scales are also great for baking or any time you need precise measurements.

Keep a Lid on It



Photo courtesy of Amazon.com

Silicone Lids, $18.93

Steam or cook your veggies, rice or fish without fear of splatter. These environmentally friendly silicone lids fit a variety of pots, pans and bowls and create an air-tight seal. The best part is that you can take these lids from cooking to fridge to avoid messy clean up (at least for another day or two). Save time and money with these reusable products.

A Better Butter Bowl





Photo courtesy of

Amazon.com

Butter Keeper, $15.99

You may have heard that butter is no longer the enemy. When eaten in moderation and alongside a healthy diet of produce, lean meats and protein, butter isn't going to do you in after all. A butter keeper is just what you need to keep your butter soft, spreadable and fresh. The Zoie + Chloe butter keeper holds one stick of butter—just soften, tightly pack the butter into the top of the crock lid, add cold water to the base and invert the lid into the butter. The water helps create an airtight seal between the lid and base that keeps the butter just the way you want it for up to 30 days, no refrigeration necessary.

Save That Perfect Portion





Photo courtesy of

Amazon.com

Portion Control Bags, $2.24

A couple of dollars today can save you a lot on portion guesswork in the future. Pack perfect size snacks for work or travel, set aside a week's worth of cut up fruits and veggies, or know exactly how much leftover broth was in that can by saving it in a resealable baggie with cup measurements along the side. With this simple addition to your kitchen, healthy portion control can be as easy as grab-and-go.

Keep Berries Fresher, Longer





Photo courtesy of

Amazon.com

Prepworks by Progressive Berry Keeper, $7.99

Berries and other small fruits have a short shelf life. If you can't get them into your smoothies or yogurt before they start to get mushy and fuzzy, consider keeping them a while longer with a berry keeper. You can wash and keep up to two cups of berries in the same container—the bottom and top lids keep water from seeping out, and the middle tray keeps berries separated and less likely to bruise. Switch the vent from open to closed depending on the berry variety.

A Faster Way to Prep Your Leafy Greens





Photo courtesy of

Amazon.com

Herb Stripper, $7.39

Love kale, chard and other leafy greens but hate the time-consuming prep of stem removal? The Herb Stripper takes the hassle out of cutting away the chewy stems by stripping it off in one easy step. It also works great for leafy, fresh herbs. Choose from eight different-sized openings, pull the greens or herbs through the hole and discard the stem. Your only regret will be that you didn't have this handy tool sooner.

Perfectly Portioned Pasta





Photo courtesy of

Amazon.com

Portion Control Basket, $9.99

Don't cut the carbs—control them with the Jokari Healthy Steps Portion Control Basket. Measure, cook and strain your pasta servings all in one basket. You can use up to four baskets in one pot or just one at a time for single servings. Clean up is a cinch as the pasta basket is dishwasher safe and collapses to take up very little space in your kitchen cabinets. You can also use these baskets to hold veggies or fish for steaming.

Go Nuts Over This Scoop-and-Serve Bowl





Photo courtesy of

Amazon.com

Nut Portion Control Bowl, $6.50

Nuts are an excellent source of protein, vitamins, minerals and fiber—in moderation. That one little word is sometimes tricky to tackle. Take the guesswork out of a serving size of nuts with this handy scoop and portion control bowl, marked to indicate one or two snack-size servings. The lid does double duty as a one-serving-size scoop.

Give Your Food Lots of Love





Photo courtesy of

Amazon.com

Silicone Food Huggers, $9.99

Save your produce, save the world. Well, okay, not exactly. But it will feel like a superhuman feat to keep your cukes, tomatoes and citrus covered and fresh with these lids that come in four different sizes. Each hugger fits snugly around your sliced fruit or vegetable, helping to keep air out and spoilage at bay.

Pod Today, Eat Tomorrow





Photo courtesy of

Amazon.com

Herb Saver Storage Pods, $27.79

This set of three herb storage pods can keep your cilantro, rosemary and basil as fresh as the day you bought it, so you can make guacamole today and tacos next week without fear of your herbs turning brown and slimy in their plastic bag in your veggie drawer. The BPA-free pods have a refillable water basin in the bottom and fit nicely into your refrigerator door. They also work well for asparagus, green onions or other vegetables with long stalks.

Do you have any health food prep items to add to our list?

We hope you love these products as much as we do! SparkPeople may collect a small percentage of revenue from the links on this page.




You will earn

5

SparkPoints

Like what you read? Learn more

about SparkPeople,

or

sign up

for your free account today!
Got a story idea? Give us a shout!